30mar1:00 pm- 2:00 pmSPWLA SeminarMr. Endurance O. Ighodalo - Reservoir Fluid Geodynamics Applications on Reservoir Connectivity Assessment and Flow Assurance1:00 pm - 2:00 pm Building 76, Room #1226, King Fahd University of Petroleum & Minerals,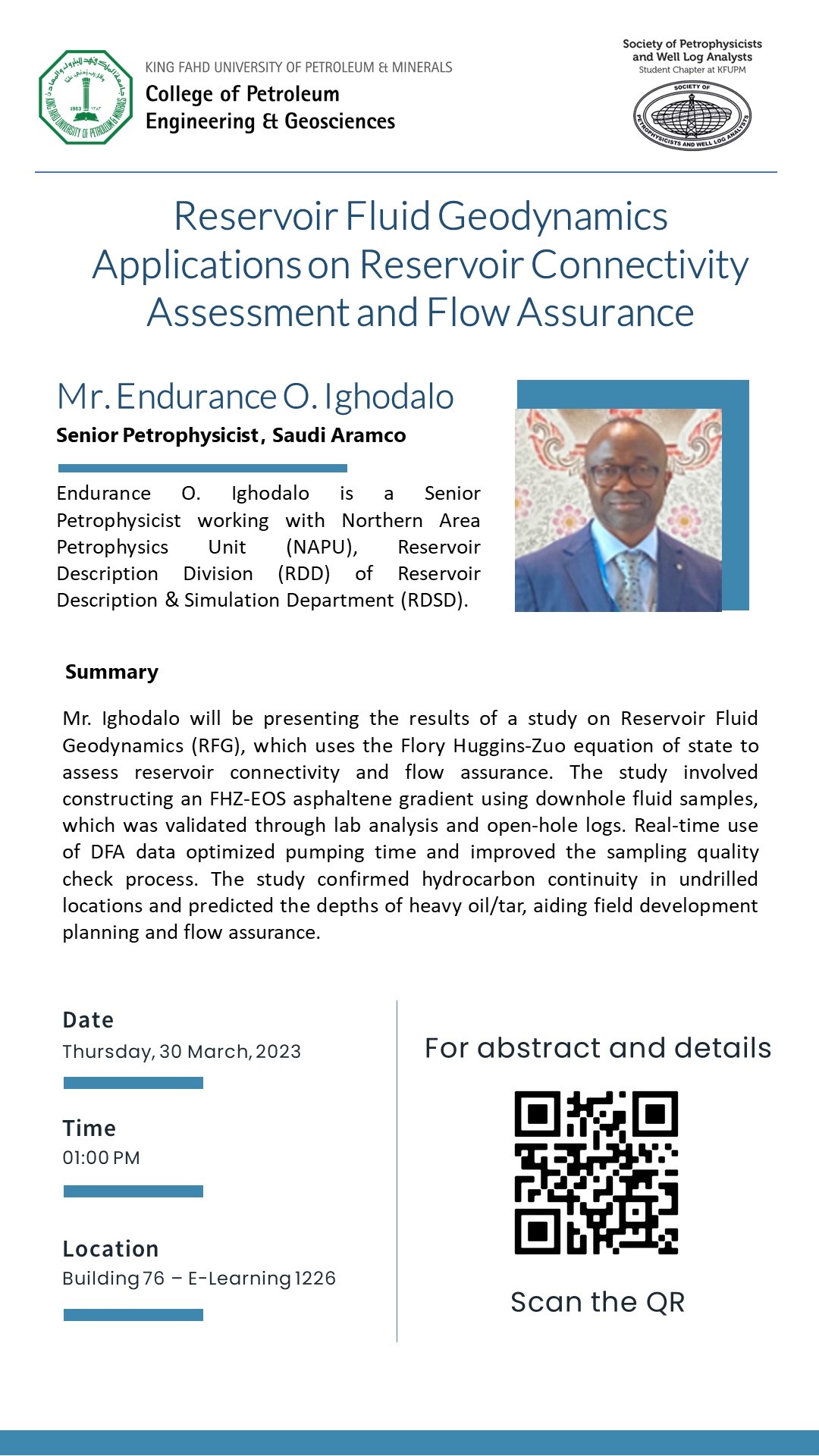 Event Details

More About Mr. Endurance O. Ighodalo

Endurance O. Ighodalo is a Senior Petrophysicist working with Northern Area Petrophysics Unit (NAPU), Reservoir Description Division (RDD) of Reservoir Description & Simulation Department (RDSD). Prior to this, he worked with Exploration Petrophysics Unit (EXPU) of RDD until October 2018. He joined Saudi Aramco in December 2014. Prior to joining Saudi Aramco, he worked as a Senior Petrophysicist with Total E & P, Nigeria. While in Total, he worked in both Operations and study teams in Onshore, offshore and Deep Offshore clastic environment. He received his B. Tech. degree in Geology from Federal University of Technology, Owerri, Nigeria in 2000 and his M.Sc. in Petroleum Geoscience from Oxford Brookes University, Oxford, United Kingdom in 2003. He has 19 years work experience in the Oil and Gas industry and holds a US patent (US 10969323 B2) and others on review and approval stages. Previously, he has authored and co-authored publications (conference / journal) in different areas of Petrophysics / Formation Evaluation including Reservoir Geodynamics, NMR fluid substitution, Electrofacies and Permeability modelling in clastics reservoirs and in Advanced Mudlogging.

Abstract:

Reservoir Fluid Geodynamics (RFG) is an emerging method for assessing reservoir connectivity and flow assurance through the use of Flory Huggins-Zuo (FHZ) equation of state (EOS) for asphaltene distributions. In this talk, Mr. Ighodalo presents the results of a study conducted on fluid dynamics and its applications on reservoir connectivity and flow assurance. Mr. Ighodalo's talk revolves around their previous study that involved the construction of an FHZ-EOS asphaltene gradient using downhole fluid samples from two zones, which was validated through laboratory analysis and conventional open-hole logs. The FHZ-EOS model established fluid typing, correlation, and connectivity across layers. Real-time use of DFA data optimized pumping time and improved the sampling quality check process. The study confirmed hydrocarbon continuity in undrilled locations within the study area through the constructed asphaltene gradient. Valuable insights into the use of RFG for improved reservoir connectivity assessment and fluid typing, especially in the presence of low gas oil ratio (GOR) fluids, were obtained. The study predicted the depths/location of heavy oil/tar, which will assist in the field development plan and flow assurance.
Time

(Thursday) 1:00 pm - 2:00 pm
Location

Building 76, Room #1226

King Fahd University of Petroleum & Minerals,