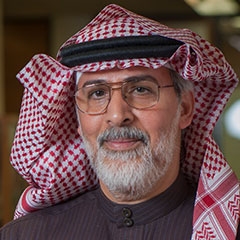 Welcome to the webpage of our Department.
The Department of Geosciences was founded in the year when the University was established (1963).
The University's name, "King Fahd University of Petroleum and Minerals", conveys the core purpose of our Department's remit namely to produce quality geologists and geophysicists who can contribute to the important exploration of these two essential commodities. Since its foundation, the department has been taking a leading role within The Kingdom of Saudi Arabia by training qualified graduates (geologists and geophysicists) who can serve the country in both the private and government sectors.
The Department offers a Bachelor's degree in Geology and in Geophysics and a Master's degree in Geology, in geophysics, and in Environmental Sciences. Diversity and competency in the Department's programs allow its graduates to work in major oil and mineral industrial organizations as well as in other institutions requiring geological, geophysical and hydrogeological studies.
Saudi Aramco, SABIC, ARGAS, Schlumberger, the Ministry of Energy, Industry and Mineral Resources, and the Ministry of Environment, Water, and Agriculture employ many of the Department's graduates. Some graduates work for the Ministry of Education or choose to continue their higher education in earth sciences.
Laboratories and teaching facilities in the Geosciences Department are comparable to their counterparts in the most reputable universities in the world. Our excellent facilities allow students to both acquire enhanced skills and make them enjoy a modern and insightful scientific environment. Through this webpage, you will learn and find out more about what the Geosciences Department has to offer.
Welcome again to our webpage and I hope that your visit will be an enjoyable one. If you have any comments or inquiries regarding the Department of Geosciences, please do not hesitate to send me an email and I will be more than happy to reply. Thank you again for your visit and have a good time with us.
Dr. Abdullatif Al-Shuhail
Save
Save