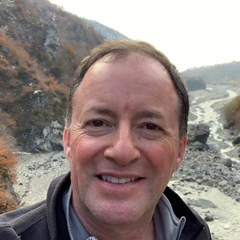 Department of Geosciences - Chairman's Message
The Department of Geosciences extends our welcome and our appreciation for your interest in our department. We are a proud part of the family called the College of Petroleum Engineering and Geosciences (CPG), an integral academic unit of King Fahd University of Petroleum and Minerals (KFUPM).
While CPG is a new college as of 2015, the Department of Geosciences was founded the same year (1963) that KFUPM was established. We joined together with the Department of Petroleum Engineering and the Center for Integrative Petroleum Research (CIPR) to bring CPG to fruition. Both Petroleum Engineering and CIPR were also a long-standing entities on campus before the formation of CPG. Our combined strengths have resulted in a dynamic educational and research environment broadly focused on the exploration, production, development, and stewardship of the Kingdom's natural resources.
The Department offers Bachelor's, Master's, and doctoral degrees in both Geology and Geophysics. We also offer an interdisciplinary Master's degree in Environmental Sciences. Our graduates go on to be expert contributors and leaders in industry, academia, and government. Our constituencies and employers of our graduates include Saudi Aramco, SABIC, ARGAS, Schlumberger, the Ministry of Energy, and the Ministry of Environment, Water, and Agriculture, the Ministry of Education, among others. Some graduates choose to continue their higher education and/or enter academic careers.
CPG is establishing some of the most highly advanced research and teaching laboratories anywhere in the world. New state-of-the-science instrumentation and facilities for geoscience research includes geophysical, petrophysical, geomechanical, advanced imaging, electron-beam, x-ray, chemical, and isotope analytical equipment. In addition to advanced field equipment, these facilities allow research on the cutting edge and provide our students with opportunities to acquire enhanced skills critical in their future careers. As these facilities expand and evolve, be sure to visit the CPG website to see what's available. We welcome collaboration in line with our mission and goals.
Welcome again to our website; please enjoy your exploration of what we have to offer. If you have any comments or inquiries regarding the Department of Geosciences, please do not hesitate to contact me and I will be more than happy to reply. Thank you and best regards from all of our faculty, students, and staff.
Dr. John D. Humphrey
Save
Save