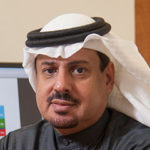 I cordially welcome you to the home page of the Department of Petroleum Engineering at KFUPM.
The Department was established in 1973 to offer quality programs in petroleum engineering and to develop advanced research capabilities to meet Saudi Arabia's needs for manpower, technical expertise, and educational services.
The Department provides a four-year BS degree program as well as M.S. and Ph.D. programs. In the graduate programs, wide selections of courses are offered which are directed towards broadening the student's technical background and, at the same time, deepening his understanding in one or more areas of petroleum engineering. All areas within the discipline of petroleum engineering are covered in depth through classroom and laboratory sessions.
The Department places particular emphasis on developing student research skills and fostering original research. The Department is linked to the University's main-frame computing facilities in addition to having its own PC laboratory. The Department also maintains its own reference library which has a collection of textbooks in all petroleum engineering areas, SPE journals and transactions, and Ph.D. dissertations from major petroleum engineering schools.
I hope you will find all the information you need within the pages of this site. Should you have an inquiry, comment, or suggestion, I will be more than happy to hear it. Please note that Graduate Admissions is the place to visit for application forms and other material as well as to follow up on your graduate admission status.
Dr. Dhafer A. Al Shehri