Department of Geosciences Accreditation
The Department of Geosciences which includes Geology and Geophysics programs is an integral part of the basic or natural science education in most universities and colleges worldwide. The Department of Geosciences, which was previously the Department of Earth Science, was formed in 1963, the same year of establishing "The King Fahd University of Petroleum and Minerals" and the first B.S. degree in Geology was awarded in 1971. In 1976, KFUPM adopted the Geophysics option.
In June 2015, both Geology and Geophysics programs were fully accredited by National Commission for Academics Accreditation and Assessment (NCAAA), on the same year both programs underwent a major revision, focused on integration and international outreach of students. The revised Geology and Geophysics programs were approved by the University Board in August 2017 and the two programs were implemented in September 2017. The main characteristics of the revised programs are CPG-199 (Summer Camp), CPG 498 and CPG 499 (Integrated Design-I and Integrated Design-II) Courses and, a dedicated elective course for undergraduate research (GEOP 497 and GEOP 497).
The program went through several assessment and revision cycles according to guidelines developed by the Academic Assessment Center (AAC) at the Deanship of Academic Development, over the years. One major revision was carried out after the establishment of the CPG and based on NCAAA Review Panel recommendations. The latest revision process of the program started with the formation of an ad hoc committee. The process has involved contribution from all faculty members in the department.
NCAAA
National Commission for Academic Accreditation and Assessment (NCAAA) is the school accreditation facility for the nation of Saudi Arabia. It is an autonomous body but directly responsible to the council of higher education. The Geology and Geophysics programs were fully accredited by NCAAA in June 2015. The program mission, goals, and educational outputs are shown below.

Program Mission
The vision of the Geophysics program and Geological program is to be a global leader in the integration of geophysics/geology education and research relevant to discovery and development of natural resources focusing on hydrocarbons, with minimum impact on the environment. Therefore, the program mission is to be committed to:
Prepare graduates who are empowered with basic knowledge, skills, values, and confidence to take a leadership role in the fields of geophysics;
Prepare graduates to carry out research that contributes to the knowledge and sustainable development of the Kingdom in diverse aspects of geophysics, with emphasis on petroleum-related geophysics; and,
Provide a stimulating campus environment to foster life-long learning, through seminars, professional short courses, and public forums.
Program Goals
Based on the above vision and mission the Geophysics and Geology Programs have several goals which are:
To reflect in our teaching, research, and service the breadth and importance of Geophysics to society
To provide students with the technical expertise and skills needed to gather and interpret Geophysical data in a scientific manner
To provide students with the necessary tools to effectively communicate the results of Geophysical investigations to other professional and public
To maintain and enhance distinction in the areas of hydrocarbon resources, groundwater, mineral resources, and the environment
To develop cutting edge research with high scholarly impact
To interact with society, alumni, and partners.
ABET - ANSAC (On the way)
On April 1, the ABET Board of Delegates and Board of Directors voted to change the name of the Applied Science Accreditation Commission (ASAC) to the Applied and Natural Science Accreditation Commission (ANSAC). This change was made following the increased interest in bringing additional applied science as well as natural science programs under the ABET umbrella.
We, the Departrment of Geosciences, plan to apply for ABET accreditation in Oct. 2021. Currently, we prepare the Geoophysics and Geology self-study reports (SSR), hence, we updated the Program Educational Objectives (PEO) and we adopted the ABET - Students Outputs (SO).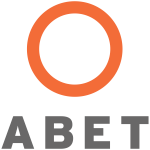 Program Educational Objectives (PEO)
The present educational objectives of the undergraduate program in Geology and Geophysics at KFUPM are to graduate geophysicists who, within a few years of graduation, will
Attain employment in governmental or private sector, or engage in entrepreneurship.
Advance their careers by demonstrating continuous development, leadership and interpersonal skills including teamwork and communication skills.
Exhibit professionalism, adhere to ethics, respect social values, and minimize negative impact on the environment.
These three PEOs were adopted on Sept. 7th, 2020. They are published on the department's Web Page under the "Accreditation" tab. They will be published in the University's Undergraduate Bulletin in its upcoming 20xx edition.
Student Outcomes
Following ABET's student outcomes 1-6 the program's student outcomes are:
An ability to identify, formulate, and solve broadly defined technical or scientific problems by applying knowledge of mathematics and science and/or technical topics to areas relevant to the discipline.
An ability to formulate or design a system, process, procedure or program to meet desired needs.
An ability to develop and conduct experiments or test hypotheses, analyze and interpret data and use scientific judgment to draw conclusions.
An ability to communicate effectively with a range of audiences.
An ability to understand ethical and professional responsibilities and the impact of technical and/or scientific solutions in global, economic, environmental, and societal contexts.
An ability to function effectively on teams that establish goals, plan tasks, meet deadlines, and analyze risk and uncertainty.