Undergraduate Student Enrollment and Graduation Statistics :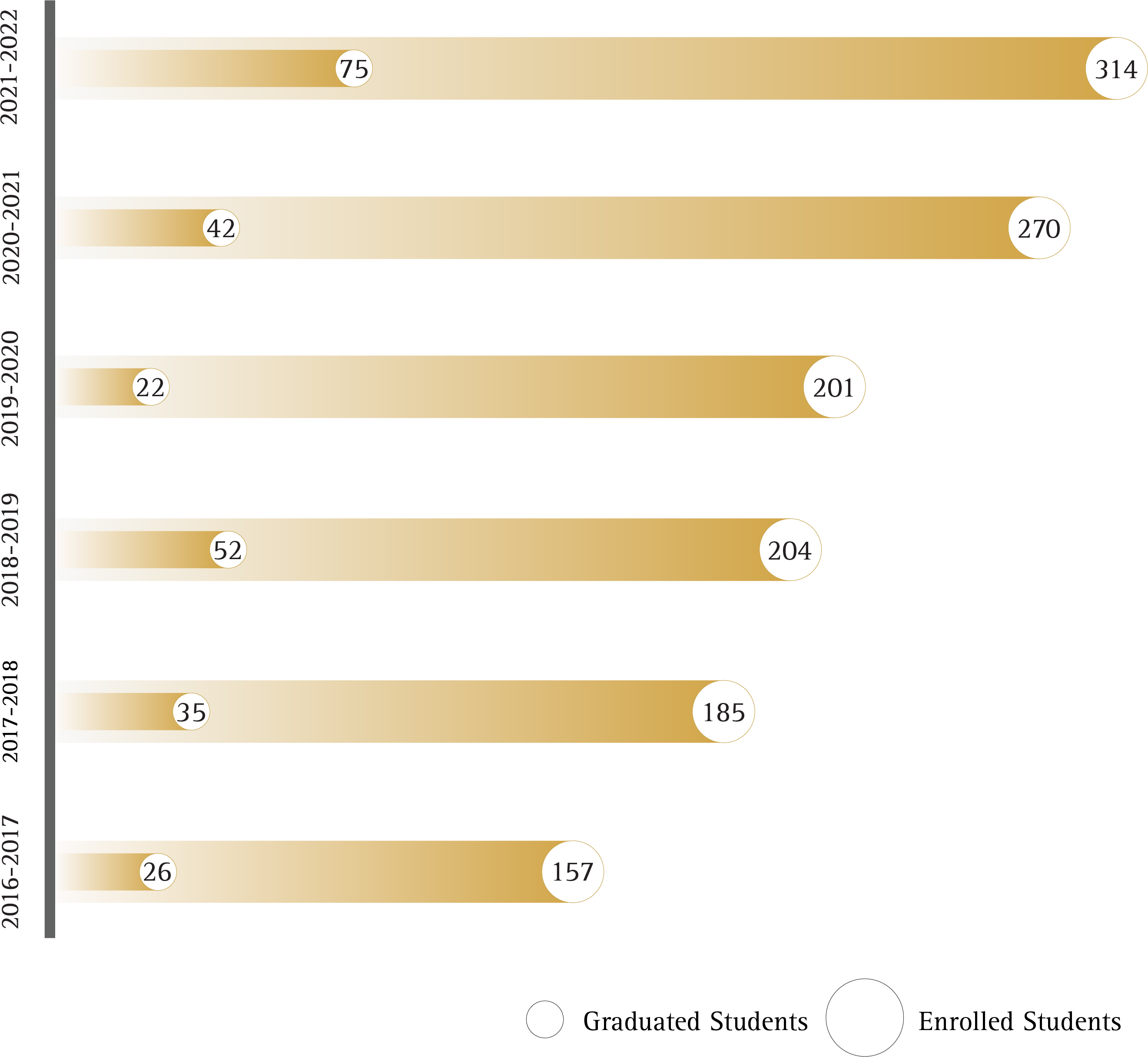 Number of Papers Published by Petroleum Engineering Faculty:
(Source: Scopus)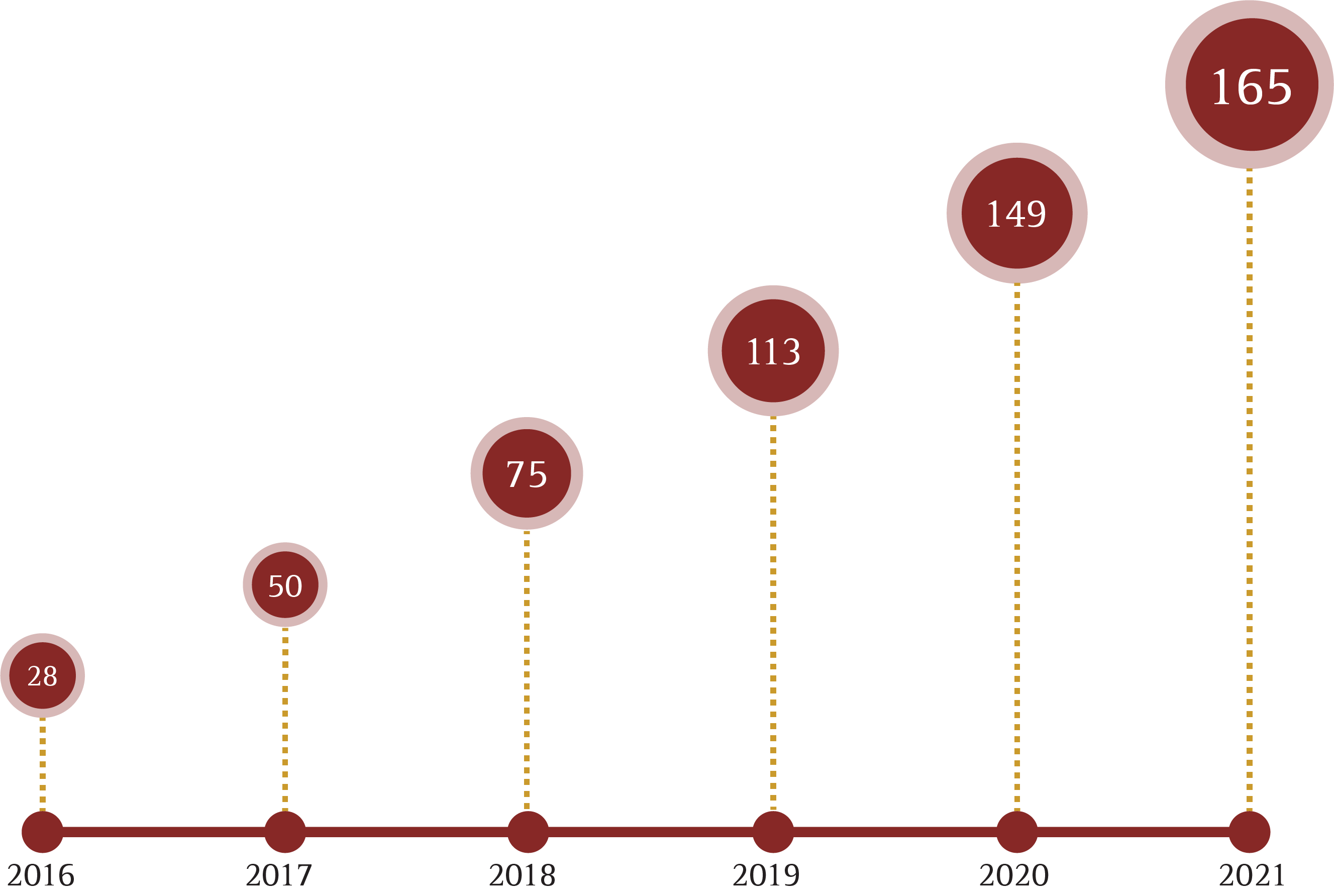 Faculty Awards between Year 2016 – 2021
Name
DATE
Award / Recognition
Dr. Dhafer Al-Shehri
2021
Society of Petroleum Engineers (SPE) Distinguished Membership Award.
2021
Executive Board Member of the International Petroleum Engineering Department Heads.
2019
Advisory Board Member of Petroleum Engineering Department, Khalifa University, UAE.
2018
Appointed as member of SPE Middle East Board Advisory Council.
Dr. Shirish Patil
2021-2026
ABET Engineering Technology Accreditation Commission (ETAC) Commissioner.
2020
Recipient of highest university award from the University of Alaska Fairbanks:
• Professor Emeritus- Petroleum Engineering.
• Director Emeritus- Petroleum Development Laboratory.
2018-Present
SPE Middle East Board of Directors- Academic Director.
2018-Present
Appointed as SPE Education and Accreditation Committee- Ex-Officio Member.
2016 – 2021
Elected as a Foreign Member of the Polish Academy of Arts and Sciences. This is the highest honor for any academician in Poland in July 2020.
2014
SPE Western North America Distinguished Achievement Award for Petroleum Engineering Faculty.
2012
ABET Engineering Accreditation
Commission (EAC) Commissioner.
Dr. Abdullah Sultan
2021
SPE Regional Distinguished Service Award.
Dr. Madhar Azad
2021
Outstanding technical reviewer award for SPE Journal
Dr. Mohamed Ahmed Nasr Eldin Mahmoud
2021
SPE Regional Production and Operations Award.
2020 - 2021
Listed as top 2% researchers in the energy section by Stanford/Elsevier.
2020
SPE Journal Outstanding Technical Editor Award.
2020
SPE Drilling and Completion Journal Outstanding Technical Editor Award.
2019
SPE Reservoir Engineering Journal Outstanding Technical Editor Award.
2017
University Distinguished Research Award.
2016
University Distinguished Teaching Award.
Dr. Abdulaziz Abdulla E Al-Majed
2020
SPE Distinguished Membership Award.
2019
Certification of Appreciation. Recognition of Outstanding Students' Advising/KFUPM 5th Senior Design Expo.
Dr. Rahul Narayanrao Gajbhiye
2020
SPE Regional Service Award.
Dr. Ruud Weijermars
2017
SPE Distinguished Member Award.
Dr. Sidqi Ahmad M Abu-Khamsin
2017
SPE Distinguished Membership Award.
Student Competitions / Awards
Title
DATE
Team
Rank
SPWLA-KFUPM Student Chapter Paper Contest (PhD Division)
2019
Mr. Ahmed Abdulhamid Mahmoud
1st Place
SPE Middle East and North Africa Regional Student Paper contest (PhD Division)
2019
1st Place
SPWLA International Student Paper Contest (PhD Division)
2019
3rd Place
MENA Virtual Regional Student Paper contest Ph.D. Level
2020
Mr. Amjed Hassan
2nd Place
SPWLA-KFUPM Student Paper Contest (PhD Division)
2017
1st Place
2020 MENA Virtual Regional Student Paper contest MS Level
2020
Mr. Ibrahim Gomaa
1st Place
SPWLA-KFUPM Student Paper Contest (MS Division)
2019
1st Place
2019 KFUPM-ARAMCO EXPEC-ARC TechBench Hack Day
2019
Mr. Abdulmalek Saif Ahmed
3rd Place
MENA Regional Paper Contest (Master's Division)
2018
Mr. Tural Jafarov
2nd Place
SPE MENA Regional Paper Contest (PhD Division)
2018
Mr. Abdallah Yousif
2nd Place
SPE MENA Regional Paper contest (Undergraduate Division)
2018
Mr. Rakan Adnan Fadl
2nd Place
SPE MENA Regional Paper Contest (PhD Division)
2018
Mr. Shams Kalam
3rd Place
ADIPEC University Program
2017
Mr. Ahmad Al-Amri
Mr. Abdulrahman Alowaid
Mr. Mohammad Al-Qarni
Mr. Mohammad Al-Subaie
Mr. Abdullah Al-Daej

3rd Place
SPE PetroBowl Regional Competition
2017
Mr. Rizwan Khan
Mr. Abdul Asad
Mr. Abdulmalek Almatrodi
Mr. Salah Al-Amair
Mr. Hassan Alismail

1st Place
2018
Mr. Zeeshan Tariq
Mr. Mohamed Rasheed Khan
Mr. Ibrahim Al-Mulhim
Mr. Yazan Ghazzan Mheilbesh
Mr. Osamah Alluhaidan

1st Place
2019
Mr. Zeeshan Tariq
Mr. Ahmed Elsayed Abdelaal
Mr. Rakan Adnan Fadl
Mr. Mohamed Lardhi

3rd Place
SPE PetroBowl International Competition
2021
Mr. Ahmed Elsayed Abdelaal
Mr. Adedimeji Adeyemi
Mr. Clement Afagwu
Mr. Sham Kalam
Mr. Saudi Yahya Alasiri

Top 8 teams out of the best 32 teams worldwide