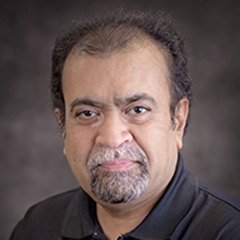 Location:
Bldg. 76, Rm. 2173
Dr. Shirish Patil
Saudi Aramco Chair Professor, Petroleum Engineering Department
Saudi Aramco Chair Professor in Department of Petroleum Engineering at KFUPM. He has over thirty five years of experience in PVT and phase behavior, miscible/immiscible displacement, EOR, Methane Hydrates, and other research areas. He served as Director of the Petroleum Development Laboratory at the University of Alaska Fairbanks and serves on numerous boards and societies. Recipient of numerous awards and recognitions, he is 2012 Society of Petroleum Engineers (SPE) Distinguished Member.
Educational Qualification
B.E. degree in Mechanical Engineering from the University of Pune, Pune, India.
M.S. in Mechanical Engineering from the University of Pittsburgh, Pittsburgh, PA, USA.
M.S. in Petroleum Engineering.
M.S. in Engineering Management.
Ph.D. in Mineral Resources Engineering from the University of Alaska Fairbanks, Alaska, USA.
Research Interests
Shirish has over 30 year's research experience in the areas of PVT/phase behavior, miscible/immiscible displacement, Methane Hydrates, and GTL transportation studies. He has managed/co-managed several U.S. Department of Energy grants and other projects with international oil companies. He has been PI or Co-PI of over 20 successfully completed projects. His H-Index score is 15 and he has authored or co-authored over 95 technical papers, 1 book chapter, 5 edited proceedings and over 50 conference presentations and technical reports.
Selected Publications
Hrishikesk Joshi, Shirish Patil, Abhijit Dandekar, and Santanu Khataniar, "Reservoir Screening for EOR Potential for Western North Slope, Alaska". 2015
Agbalaka, C.C., Dandekar, A.Y., Patil, S.L., Khataniar, S. and Hemsath, J.R.: Coreflooding Studies to Evaluate the Impact of Salinity and Wettability on Oil Recovery Efficiency. 2009
Raut, B., Patil, S.L., Dandekar, A.Y., Fisk, R., Maclean, B. and Hice, V.: "Comparative Study of Compositional Viscosity Prediction Models for Medium-Heavy Oils". 2008
Andrew Johnson, Shirish Patil and Abhijit Dandekar, "Measurement and modeling of gas-water relative permeability, Mount Elbert gas hydrate well, Alaska North Slope". 2011.
Matthew R. Walsh, Steve H. Hancock, Scott J. Wilson, Shirish L. Patil, George J. Moridis, Ray Boswell, Timothy S. Collett, Carolyn A. Koh and E. Dendy Sloan, "Preliminary report on the commercial viability of gas production from natural gas hydrates". 2009
Awards & Honors
Shirish is a Distinguished Member of the Society of Petroleum Engineers and serves as a Commissioner on the Engineering Accreditation Commission (EAC) of ABET. He received the UAF Distinguished Alumnus award in 2010. Recipient of the SPE Western North America Service award (2006) and SPE Western North America Distinguished Achievement Award for Petroleum Engineering faculty (2014), Shirish has also received "Outstanding Faculty Award" more than nine times during his 29 year tenure at UAF. Shirish was the recipient of the Alaska Engineer of the Year (2005) award (from all engineering societies). He received UAF's highest service award, the Emil Usibelli Distinguished Service award in 2007. Shirish was appointed as State of Alaska representative in the US Interstate Oil and Gas Compact Commission by Alaska Governor Frank Murkowski in 2005, which he served for more than 10 years.