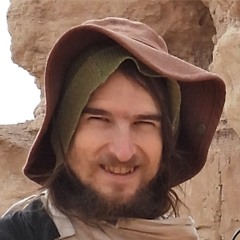 Location:
PEGTC - Rm. 227 (DTV-248)
Jarvis R. Cline
Acting Director, Remote Sensing & Digital Services, Laboratory Technical Support & Services
Jarvis Cline is privileged to hold a mid-level leadership position within the Remote Sensing & Digital Services team at CPG. Coming from a technical background in software development, Jarvis has spent most of his career in 3D data capture and analysis as applied to surface geology and aerial survey. Coming from experiences at two startup companies, Jarvis has learned the necessity of striving to be a proactive member of a team as well as the personal lesson of failing towards success. He believes that organizations should aspire to excellence through the collective and cross‑disciplinary efforts of their team members, thus he is especially gratified to be part of such an innovative institution as CPG. The integration of an engineering discipline and a science discipline create an environment which he views as rife with potential and positive impact, and the vision at CPG to pursue these cuts across supporting students, performing research, innovating in educational delivery, fostering a spin-off and entrepreneurial ecosystem, providing services within the public sector, partnering with industry, and promoting efficiency and professional development within the organization. Thus, Jarvis is more than honored with his promotion after two years with the College, in September 2020, to a position of responsibility as Assistant Director for Remote Sensing & Digital Services, a unit which is unique in the world but which has the opportunity to execute on all of the above opportunities. Jarvis is consistently inspired by the talent and esprit of the personnel he is privileged to work with, and he believes that leadership opportunities are present everywhere and that these opportunities are realized wherever strong work ethic, attention to detail, assertive communication, and teamsmanship and spirit of service intersect. Jarvis continually fails towards better success in these regards, and he looks forward to earnestly serving you.
Jarvis Cline considers himself a resource and is delighted to be consulted regarding digital outcrops as well as technologies such as photogrammetry, GPS equipment, or aerial survey by drone. You might also encounter him in remote sensing and geospatial projects, where he can be consulted regarding the availability of data as well as on the research & development side, and he is always excited by opportunities for the development of in-house or prototype software. As part of the Remote Sensing & Digital Services team, Jarvis is also part of an ecosystem within the College that serves students with their IT, software, and learning-platform related needs as well as supports them to use cutting edge technologies in their studies and research.
Educational Qualification
B.S. Software Engineering, The University of Texas at Dallas (2012)
Research Interests
Photorealistic digital outcrop models
3D data capture (laser scanning, photogrammetry)
Visualization and analysis software development
Remote sensing / GIS
Aerial survey
Selected Publications
Alhumimidi, M. S., Alfarhan, M. S., Cline, J. R., & Aiken, C. L. V. (2017). Application of a 3D photorealistic model for the geological analysis of the Permian carbonates (Khuff Formation) in Saudi Arabia. Arabian Journal of Geosciences, 10(5). https://doi.org/10.1007/s12517-017-2874-7
White, L., Aiken, C., Alfarhan, M., & Cline, J. (2010). GeoAnalysis Tools – ArcScene Extension for the Analysis of 3D Geological Outcrop Models. In 72nd EAGE Conference and Exhibition – Workshops and Fieldtrips. EAGE Publications BV. https://doi.org/10.3997/2214-4609.20149966
Awards & Honors
National Merit Scholar (2002), nationally awarded for outstanding academic excellence during high school career and college-entrance exams
Representing UT-Dallas with Matthew Dempsky and Michelle Berger, team achieved 2nd place in Association for Computing and Machinery (ACM)-sponsored Intercollegiate Programming Contest (ICPC) in North America – South Central region (2005)