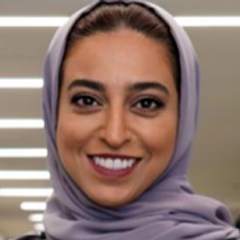 Location:
PEGTC - (DTV-248)
Reem M. Al-Boraikan
PMO Officer, CIPR
Reem has joined the Center for Integrative Petroleum Research (CIPR) in October 2020 as project management officer (PMO). AlBoraikan worked as Scientist Chemist at Halliburton Dhahran Technology Center based in Saudi Arabia for the last 5 years. She holds a BSc. in chemistry applied science from Imam Abdurrahman bin Faisal University, holding a Master of Business Administration (MBA) from Colorado State University/ Saudi Electronic University. Reem has been working with different R&D projects mainly in drilling. She's an active member of the professional societies and has participated in different Committees related to social, and technical activities. She has co-authored 3 technical papers and is holding four US patents.
Educational Qualification
MBA – Colorado State University/Saudi Electronic University 2021.
B.S. in Applied Chemistry; Imam Abdulrahman Bin Faisal University, Dammam, KSA
Research Interests
Drilling Fluid Technology and related challenges specifically to LC Mitigation.
Selected Publications
Abdulrazzaq, W., AlBuraikan, R., Savari, S., & Whitfill, D. L. (2018). Chemical Sealant Loss Circulation Materials for Fractured Formations: Right-Angle Viscosity Development with High Plugging Efficiency. Paper presented at the SPE Kingdom of Saudi Arabia Annual Technical Symposium and Exhibition, Dammam, Saudi Arabia.
Alhajj, H. Peng, Y., Fan, C., Alburaikan, R., Halliburton; Leal, J., & Chang, F. (2015).A systematic approach to dissolve iron sulfide scales .paper presented at Middle East Oil and gas show and conference held in Manama, Bahrain