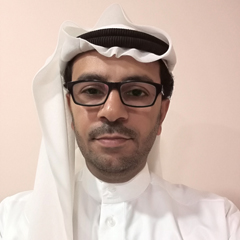 Location:
Bldg. 76, Rm. 2237
Adnan Al-Mubarak
Computer Engineer, Department of Geosciences
In 1995 Adnan joined KFUPM to get a degree in computer sciences. Shortly after graduation, he was recruited by the same university as a full-time employee in 2001. Adnan possesses a strong background in design and application management combined with knowledge as a system analyst and engineer and software developer.
Educational Qualification
B.Sc., Computer Engineering, KFUPM, KSA, 2001.
Selected Publications
Abdullatif A. Al-Shuhail, Abdullah A. Alshuhail, Yehia A. Khulief, Septriandi A. Chan, Abdul Latif Ashadi, Ayman F. Al-Lehyani, Adnan M. Almubarak, Mohammed Zia Ullah Khan, Sikandar Khan, Salem G. AlJuhani and Khalid A. Abdulrahman, "KFUPM Ghawar Digital Viscoelastic Seismic Model", Arabian Journal of Geosciences (2019) 12:245, https://doi.org/10.1007/s12517-019-4390-4
Abdullatif A. Al-Shuhail, Abdullah A. Alshuhail, Yehia A. Khulief, Oluseun A. Sanuade, Ayman F. Al-Lehyani, Septriandi A. Chan, Abdul Latif Ashadi, Mohammed Zia Ullah Khan, Sikandar Khan, Adnan M. Almubarak, Salem G. AlJuhani and Syed Abdul Salam, "Digital viscoelastic seismic models and data sets of central Saudi Arabia in the presence of near-surface karst features", Journal of Seismic Exploration (2018), Accepted on February 1, 2019