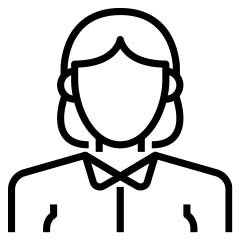 Tel:
+ 966 (013) 860- 5059
Location:
DTV Bldg. 248 (PEGTC), Rm. 211
Zainah A. Al-Dhawi
Laboratory Specialist, CIPR
Zainah is currently working as a lab specialist in the Center for Integrated Petroleum Research, College of Petroleum Engineering & Geoscience, KFUPM. She got her M.Sc & B.S. from Imam Abdulrahman bin Faisal University (IAU), Dammam.
Educational Qualification
M.S., Physical Chemistry, College of Science, Imam Abdulrahman bin Faisal University (IAU), KSA-Dammam
B.S., Chemistry, College of Science, Imam Abdulrahman bin Faisal University (IAU), KSA-Dammam
Research Interests
Catalysts designing and utilization.
Harnessing renewable energy for water treatment and fine chemicals production.
kinetics molding.
Synthesis and characterizing of sustainable nanomaterials for chemical EOR
Selected Publications
AlDhawi, Z. A., Alomair, N. A., Kochkar, H., & Revathy, C. G. (2022). One-pot Synthesis of Chromium Incorporated SBA-16 under acid medium-Application in the selective oxidation of benzyl alcohol derivatives. Arabian Journal of Chemistry, 103861.‏