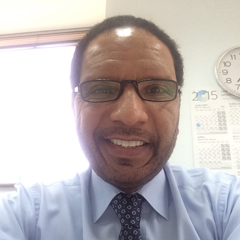 Location:
Bldg. 76, Rm. 2107
Yousef H. Botwaibah
Communication Administrator, Dean's Office
Having a vast experience in various major governmental organizations including Saudi Arabian National Guard (1984-90) and Saudi TV channel 2, Yousef joined CPG in 2017, working as CPG Communication Administrator. Prior to joining CPG, he was working as PR Specialist & Government Affairs Staff Advisor at Saudi Aramco from 1991 and retired in 2016 as Career Counselor.
Educational Qualification
B.A, Double Major in English Inter-Personal Communication & French Linguistics, Sonoma State University, 1983, California, USA.
Courses:
French Language Training (summer classes) 1980-1982, University of Nice, France.
French Language Training (summer classes) 1983, International Center for Language, Besançon, France
Human Resources Development Program September 16-18, 1987, American Management Association, New York.
Personnel Administration: Principles and Techniques June 18-30, 1988, MEIRC, Athens, Greece
Compensation and Benefits August 5-7, 1989, MEIRC, Athens, Greece
Recruitment and Selection Skills July 6-11, 1990, Human Resources Dev. Corp. Sousse, Tunisia
Contract Administration Seminar November 21-23, 1992
Coaching for Performance August 24-27, 1996
Situational Leadership November 30-December 2, 1997
7 Habits of Highly Effective People December 23-26, 2001
Energizing & Empowering Employees May 28, 2006
PR Protocol March 17-20, 2007
2nd Kuwait Conference on PR February 12-13, 2008
Fikr 7 Cairo 2008 November 13-16, 2008
10th ASHRM International Conference & Exhibition March 29-31, 2010
Specialist Social Responsibility Dec.15-19, 2013
Conflict of Interest & Bus. Ethics June 25, 2014