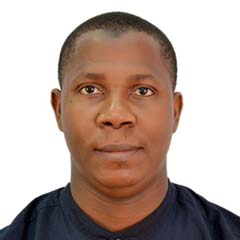 Location:
Bldg. 78, Rm. 1052
Suaibu O. Badmus
Scientist II, CIPR
Badmus is a Scientist II at the Centre for Integrative Petroleum Research, KFUPM, Saudi Arabia. He joined this multidisciplinary research hub after his master's degree in Geosciences, KFUPM. He is vast in research that encompasses bioprocessing and biotechnology, environmental remediation, and material synthesis and characterization. Currently, he handles the operation of advanced petrophysical facilities and resources to facilitate the fundamental understanding of complex fluids transport in the porous media.
Educational Qualification
M.S., Environmental Science, KFUPM, KSA, 2020.
B.Tech., Microbiology, Ladoke Akintola University of Technology, Nigeria, 2015.
Research Interests
Environmental Remediation
Enhanced Oil Recovery
Carbon Capture and Sequestration
Bioprocessing and Biotechnology
Selected Publications
Badmus, S.O., Oyehan, T.A., Saleh, T.A., 2021. Enhanced efficiency of polyamide membranes by incorporating cyclodextrin-graphene oxide for water purification. Journal of Molecular Liquids 340. doi:10.1016/j.molliq.2021.116991.
Badmus S.O., Amusa H.K., Oyehan T.A., Saleh T.A. Environmental Risks and Toxicity of Surfactants: Overview of Analysis, Assessment and Remediation Techniques. Journal of Environmental Science and Pollution Research (2021). https://doi.org/10.1007/s11356-021-16483-w.
Badmus, S.O., Oyehan, T.A. & Saleh, T.A. Synthesis of a Novel Polymer-Assisted AlNiMn Nanomaterial for Efficient Removal of Sulfate Ions from Contaminated Water. Journal of Polymers and Environment29, 2840–2854 (2021). https://doi.org/10.1007/s10924-021-02077-7.
Lateef, A., Azeez, M.A., Badmus, S.O., et al. A decade of nanotechnology research in Nigeria (2010–2020): a scientometric analysis. Journal of Nanoparticles Research 23, 211 (2021). https://doi.org/10.1007/s11051-021-05322-1.
Badmus S.O., Tawabini B. (2021). Sulphate Removal from Aqueous Solution Using Modified Bentonite. Water Resources in Arid Lands: Management and Sustainability. Advances in Science, Technology & Innovation). Springer, Cham. https://doi.org/10.1007/978-3-030-67028-3_17
Awards & Honors
Ministry of Higher Education Scholarship (M.S. in Environmental Science, 2018 – 2020), Saudi Arabia.