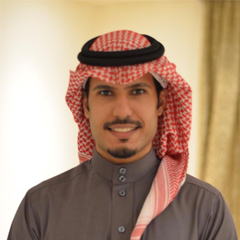 Location:
Bldg. 76, Rm. 1250
Dr. Saad F. Alafnan
Assistant Professor, Department of Petroleum Engineering
Educational Qualification
Ph.D., in Petroleum Engineering, Texas A&M University – 2014-2017.
M.S. in Petroleum Engineering, University of Southern California – 2012-2014
B.S. in Chemical Engineering, King Fahd University of Petroleum and Minerals – 2007-2011
Research Interests
Unconventional Reservoirs
Mesoporous and Nanoporous Materials
Multiscale Transport in Porous Media
Enhanced Recovery From Shales
Selected Publications
K. Alafnan, Saad & Akkutlu, I. Yucel. (2017). Matrix–Fracture Interactions During Flow in Organic Nanoporous Materials Under Loading. Transport in Porous Media.
Kou, Rui & F. K. Alafnan, Saad & Akkutlu, I. Yucel. (2016). Multi-scale Analysis of Gas Transport Mechanisms in Kerogen. Transport in Porous Media.
Alafnan, Saad & Aljawad, Murtada & Alismail, Fahad & Almajed, Abdulaziz. (2019). Enhanced Recovery from Gas Condensate Reservoir through Renewable Energy Sources. Energy Fuels.
Aljaberi, J.; Alafnan, S.; Glatz, G.; Sultan, A.; Afagwu, C. The Impact of Kerogen Tortuosity on Shale Permeability. SPE Journal 2020.
Alafnan, S.; Solling, T.; Mahmoud, M. Effect of Kerogen Thermal Maturity on Methane Adsorption Capacity: A Molecular Modeling Approach. Molecules 2020, 25, 3764.
Extended Publications (+)
Alafnan, S., and Yucel Akkutlu, I. (April 8, 2020). "The Transport Mechanisms and Dynamics of Shale via Multiscale Multiphysics Pore Network Modeling." ASME. J. Energy Resour. Technol. September 2020; 142(9): 093003.
Alafnan, Saad & Sultan, Abdullah & Aljaberi, Jaber. (2020). Molecular Fractionation in the Organic Materials of Source Rocks. ACS Omega.
Alafnan, S., & Akkutlu, Y. (2020). Transport in Nanoporous Materials. In 948916750 740229742 K. D. Sattler (Author), 21st century nanoscience a handbook (Vol. 5, pp. 12-1-12-6). Boca Raton, FL: CRC Press.