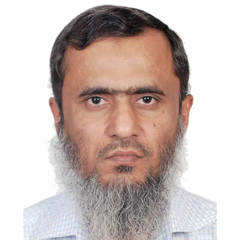 Fax:
+ 966 (013) 860-3989
Location:
Bldg. 15, Rm. 6110
Nadeem Ahmed Syed
Research Assistant, CIPR
Started career as R&D Engineer at Dynamics International (PVT) Ltd. Pakistan in 1992. Worked as Manager Services in AMS/BMS in Pakistan from 1996 to 2010 managing Services of Analytical/Life Sciences Instruments. Worked as Service Supervisor at Naizak in KSA from 2011 to June 2019 providing various services. Currently, working as Research Assistant at KFUPM (CIPR), since July 2019.
Educational Qualification
B.E. in Electronics from Mehran University Pakistan 1991
Research Interests
Digital Rock Physics.
Surface analysis using AFM, SEM. and XPS.
Generation 3D micro-images of natural and artificial porous materials using CT- and medical scanners and FIB/SEM.