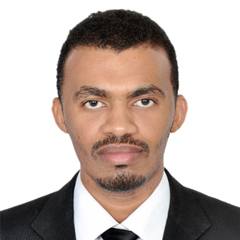 Location:
Bldg. 76, Rm. 1133
Mutasim Sami Osman
Lecturer, Geosciences Department
From Sept. 2015 till the present day, Mutasim has been lecturing on Geosciences at CPG, KFUPM. Between Jun. 2014-15 he was a Research Assistant and had participated in several projects in sedimentology, stratigraphy and digital modeling, geological field investigation, stratigraphic concepts, core description, porosity, and permeability measurements, SEM, XRD analysis and "acquisition, processing, and interpretation of LiDAR data".
Educational Qualification
M.Sc., Geology, KFUPM, KSA, 2014.
Diploma, Computer Applications, Aldanga, Sudan. 2010.
B.S. (Hons.), Petroleum Geology, University of Khartoum, Sudan, 2009.
Research Interests
Sedimentology, stratigraphy and digital modeling.
Selected Publications
October 2016: Hassan A. Eltom, Osman M. Abdullatif, Lameed O. Babalola, Mazin A. Bashari, Mohamed Yassin, Mutasim S. Osman, Asaad M. Abdulraziq. Integration of facies architecture, ooid granulometry and morphology for prediction of reservoir quality, Lower Triassic Khuff Formation, Saudi Arabia. Published Online.
January 2016: Eltom, H.A., Abdullatif, O.M., Babalola, L.O., Bashari, M.A., Yassin, M., Osman, M.S., Abdulraziq, A.M., Geochemical characterization of the permian-triassic transition at outcrop, central Saudi Arabia, Journal of Petroleum Geology, V. 39 (1), P. 95-113.
Workflow of Integration of Digital Outcrop Modeling and Sedimentology of the Early Triassic Upper Khartam Member of Khuff Formation, Central Saudi Arabia.
Submitted to Arabian Journal of Geosciences in October 2015 (AJGS-D-15-01581).
Inter-well Scale Heterogeneity of the Upper Khuff Reservoir Units from an equivalent outcropping strata, Central Saudi Arabia.
Under preparation to be submitted to Petroleum Geology in November 2016.