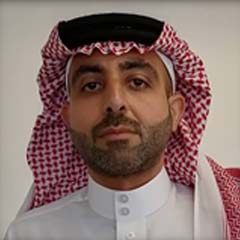 Tel:
+ 966 (013) 860-8683
Fax:
+ 966 (013) 860-8649
Location:
Bldg. 76, Rm. 2104
Khalid Y. Almulhim
Manager, Finance & Administration Department
Working for more than 15 years in Saudi Aramco handling different functions in Controllers, Treasury, Affiliates Support, and Project Management. Prior to joining CPG as F&A Manager, I was the Finance Rep of Saudi Aramco for several reimbursable contracts' administrations, Finance Rep of Saudi Aramco in numerous contracts' and projects' evaluations, negotiations and award. Then, handled the financial statements analysis and credit assessment of potential contractors in Saudi Aramco. After that, worked as an advisor for multiple General Engineering Services Contracts in Saudi Aramco's Project Management Team. Followed by being the Financial Analyst of several affiliates of Saudi Aramco handling the financial, journal entries and the governance aspects of these affiliates.
Educational Qualification
Bachelor of Accounting – University of North Carolina at Charlotte, USA.
Bachelor of Finance – University of North Carolina at Charlotte, USA.
Master of Professional Accounting – Griffith University, Australia.
Certificate of Management Accountant (CMA).
ACCA – Certificate in International Financial Reporting (Cert IFR).
Certificate of Strategy and Competitive Analysis (CSCA).
Professional Experience:
Accounting Staff Analyst – Affiliates Support & Financial Consulting Department (ASFCD) – Saudi Aramco.
Contracts Cost Compliance Analyst – Contract Review & Cost Compliance Department (CRCCD) – Saudi Aramco.
Financial Analyst – Financial Risk Management Department (FRMD) – Saudi Aramco.
Contracts Advisor – Project Management Office Department (PMOD) – Saudi Aramco.