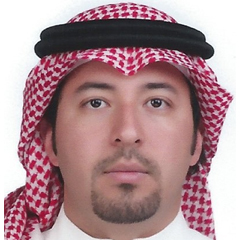 Location:
Bldg. 76, Rm. 1247
Khalid Ahmed Abdulrahman
Lecturer, Department of Geosciences
Khalid started his career in 2008 as a computer operating system specialist under IT in Saudi Aramco. He also worked in the Exploration and Petroleum Engineering Computer Center (EXPEC) in the company. Khalid joined KFUPM in 2012 as a graduate assistant in the geosciences department where he shifted his focus towards geophysics and finished non-degree pre-graduate courses in geophysics in 2014 before earning his master's degree in 2017. As a graduate assistant, Khalid assisted in teaching undergraduate and graduate courses in the fields of geology and geophysics, such as Physical Geology (lab), Regional Geology, Essentials of Geophysics, Seismic Exploration, Seismic Data Processing, Reflection Seismology (graduate) and Seismic Data Analysis (graduate). Khalid also assisted in teaching undergraduate senior project course, where the focus was on GPR method. After being promoted to the rank of lecturer, Khalid continued his tasks in teaching undergraduate and graduate students. He is also working with the Remote Sensing Lab (RSL) to integrate photogrammetry & 3D modeling with other geophysical methods.
Educational Qualification
M.S. in Geophysics, KFUPM, Dhahran, Saudi Arabia, 2017.
B.S. Information and Computer Science, KFUPM, Dhahran, Saudi Arabia, 2008.
Research Interests
Seismic Data Processing and Interpretation
Remote Sensing
Selected Publications
Abdullatif A. Al-Shuhail, Abdullah A. Alshuhail, Yehia A. Khulief, Septriandi A. Chan, Abdul Latif Ashadi, Ayman F. Al-Lehyani, Adnan M. Almubarak, Mohammed Zia Ullah Khan, Sikandar Khan, Salem G. AlJuhani and Khalid A. Abdulrahman, "KFUPM Ghawar Digital Viscoelastic Seismic Model", Arabian Journal of Geosciences (2019) 12:245, https://doi.org/10.1007/s12517-019-4390-4
Awards & Honors
Awarded Best Computer Science Senior Project in KFUPM. 2007.