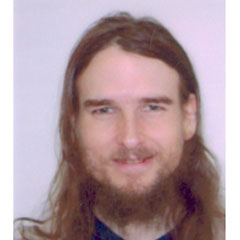 Location:
DTV 02, Rm. 227 [Cluster 01]
Jarvis R. Cline
Programmer Remote Sensing Laboratory, Laboratory Technical Support & Services
Jarvis Cline first stepped on KSA regolith in 2010, on a 6-week campaign to create digital outcrop models within the Kingdom while working for a startup company spun out from UT-Dallas. While Jarvis' technical background is in software development, he has a layman's love of natural science and is honored to work in a supporting role to academics and researchers. He also enjoys being an impactful member of an innovative small team, thus he values his experiences at two startups (Geological & Historical Virtual Models, LLC and FalconViz LLC) both in the field of 3D data capture. Working as a consultant at KACST in Riyadh (2013-2016), he gained experience in remote sensing and aerial survey. Jarvis considers it a life privilege to now be working at King Fahd University of Petroleum and Minerals, within the Remote Sensing Laboratory at CPG. He views this as the perfect setting to make good on his passion for supporting students and researchers, following up the lifecycle of projects having both academic and economic importance, and continuing his personal penchant for creating photorealistic outcrop models and developing the tools to do useful things with them. Jarvis would like to acknowledge some of his mentors including Carlos Aiken, Lionel White, Neil Smith, and (less directly) Ron Monsen for providing the vision which has led to such a personally rewarding career path. Mr. Cline is also grateful to be working in Saudi Arabia during a transitional period, and hopes in some small way to continue the tradition of contributing globally-sourced talent to the momentous initiatives happening within KSA.
Educational Qualification
B.S. Software Engineering, The University of Texas at Dallas (2012)
Research Interests
Photorealistic digital outcrop models
3D data capture (laser scanning, photogrammetry)
Visualization and analysis software development
Remote sensing / GIS
Aerial survey
Selected Publications
Alhumimidi, M. S., Alfarhan, M. S., Cline, J. R., & Aiken, C. L. V. (2017). Application of a 3D photorealistic model for the geological analysis of the Permian carbonates (Khuff Formation) in Saudi Arabia. Arabian Journal of Geosciences, 10(5). https://doi.org/10.1007/s12517-017-2874-7
White, L., Aiken, C., Alfarhan, M., & Cline, J. (2010). GeoAnalysis Tools – ArcScene Extension for the Analysis of 3D Geological Outcrop Models. In 72nd EAGE Conference and Exhibition – Workshops and Fieldtrips. EAGE Publications BV. https://doi.org/10.3997/2214-4609.20149966
Awards & Honors
National Merit Scholar (2002), nationally awarded for outstanding academic excellence during high school career and college-entrance exams
Representing UT-Dallas with Matthew Dempsky and Michelle Berger, team achieved 2nd place in Association for Computing and Machinery (ACM)-sponsored Intercollegiate Programming Contest (ICPC) in North America – South Central region (2005)