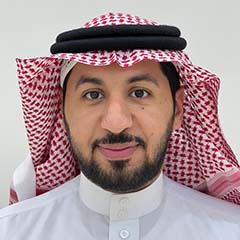 Location:
Bldg. 78, Rm. 1057
Jafar Sadeq Al Hamad
Research Assistant, Laboratory Technical Support & Services
Mr. Al Hamad is a very active young research assistant and served exceptionally to advance the Petroleum Engineering academic community. He nurtured from lab technician "2018 – 2021" and managed foundation of various labs to make industry impact. He oversees HSE, produced best practices and SOPs and passionately train faculty, undergrad and grad students. His leadership and support attributed to substantial new knowledge in research and publications.
Educational Qualification
B.S. in Petroleum Engineering, King Fahd University of Petroleum and Minerals – 2008-2014
Research Interests
Enhance Oil and Gas Recovery
Rheological Applications
Gas Storage
Selected Publications
Saikia, T., Sultan, A. & Al Hamad, J.S. Effect of mixing method on the rheokinetics of pickering emulsified gel system used as disproportionate permeability reducer. Rheol Acta 59, 875–885 (2020). https://doi.org/10.1007/s00397-020-01249-x
Olalekan S. Alade, Dhafer Al Shehri, Mohamed Mahmoud, Esmail M.A. Mokheimer, Jafar Al Hamad, Muhammad Shahzad Kamal, Ayman Al-Nakhli, K. Sasaki, A novel technique for heavy oil recovery using poly vinyl alcohol (PVA) and PVA-NaOH with ethanol additive,Fuel,Volume 285,2021,119128,ISSN 0016-2361, https://doi.org/10.1016/j.fuel.2020.119128
Malki, Faisal Al, Alade, Olalekan, Hamad, Jafar Al, Shehri, Dahfer Al, and Mohamed Mahmoud. "Improved Viscosity Model for Bitumen-Solvent Binary Mixtures." Paper presented at the International Petroleum Technology Conference, Riyadh, Saudi Arabia, February 2022.doi: https://doi.org/10.2523/IPTC-22561-EA