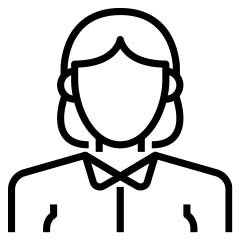 Tel:
+ 966 (013) 860-8346
Location:
DTV Bldg.248 (PEGTC), Rm. 211
Ibtisam Bin Sharfan
Laboratory Specialist, CIPR
Ibtisam is currently working as a lab specialist in the Center for Integrated Petroleum Research, College of Petroleum Engineering & Geoscience, King Fahd University of Petroleum and Minerals (KFUPM). She obtained her M.Sc degree in Chemistry Science from the Department of Chemistry, King Saud University in 2021. Her areas of interest include the design and synthesis of novel organic compounds, polymers, sustainable materials, and their use in various applications such as enhanced oil recovery, water treatment, gas separation, and biological application.
Educational Qualification
M.S., Organic Chemistry, King Saud University, KSA, 2021.
B.S., General Chemistry, Salman Bin Abdulaziz University, KSA, 2013.
Research Interests
Design and synthesis of novel organic, inorganic, and organometallic compounds
Preparation of new polymeric materials for membrane-based separation
Development of sustainable nanomaterials
Enhance oil recovery (EOR)
Selected Publications
Rais Ahmad Khan, Seham Suliman Alterarya, Ibtisam I. BinSharfan, HudaAlsaeedi, Amal AlFawaza, Mohd. Shahnawaz Khan, Mohammad H Jaafara, Yanshu Shi, Hadi D. Arman, Ali Alsalme " Piano-stool type (η6-p cymene) ruthenium (II) thiazole-derived motifs complexes: synthesis, crystal structures, DFT studies, molecular docking and in-vitro binding studies with HSA and cytotoxicity" Inorganica Chimica Acta 2022, 120925.
Rais Ahmad Khan, Ibtisam I. BinSharfan, Seham S. Alterary, Huda Alsaeedi, Faizan Abul Qais, Amal AlFawaz, Arman D. Hadi, Ali Alsalme "Organometallic (η6-p-cymene)ruthenium(II) complexes with thiazolyl-based organic twigs: En route towards targeted delivery via human serum albumin of the potential anticancer agents" Applied Organometallic Chemistry 2021; e6550.
Awards & Honors
Class Honors M.Sc from King Saud University 2021.
Class Honors BSc from Sattam Bin Abdulaziz University 2013.