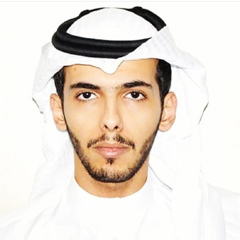 Location:
Bldg. 78, Rm. 2028
Faisal M. Al-Ghamdi
Scientist II, CIPR
Faisal Alghamdi is a researcher at the Center for Integrative Petroleum Research (CIPR). He is a part of the geoscientist team of the Geosystems program at CIPR. He is participating in several collaborative joint projects funded by KACST to investigate the potential of unconventional hydrocarbon resources in Saudi Arabia.
Educational Qualification
M.S. in Petroleum Geology, KSU, Riyadh. Saudi Arabia, 2022.
B.S. in Geology, KSU, Riyadh. Saudi Arabia, 2018.
Research Interests
Unconventional Hydrocarbon resources in Saudi Arabia.
Depositional environment
Diagenesis.
Reservoir quality.
Selected Publications
Faisal AlGhamdi, Abdulrahman AlQuraishi, Abiodun Matthew Amao, Abdulaziz AlLaboun, Khalid Elshreef, Ali Kahal, Aref Lashin (2022). Depositional Setting, Mineralogical and Diagenetic implication on Petrophysical Properties of Unconventional Gas Reservoir of The Silurian Qusaiba Formation, Journal of Petroleum Science and Engineering.
Adhipa Herlambang, Ardiansyah Koeshidayatullah, Abduljamiu O. Amao, Abdulwahab Bello, Faisal Al-Ghamdi, Muhammad Hammad Malik, Khalid A. H. Al-Ramadan (2022). Structural diagenesis and dolomitization of Cenozoic post-rift carbonates in the Red Sea rift basin: A multiproxy approach, Frontiers in Earth Science.
Abiodun Matthew Amao, Abdurrahman AlQuraishi, Faisal AlGhamdi, Aref Lashin, Khalid Elshreef, Abdulaziz AlLaboun (2022). Petrophysical Characterization of The Qusaiba Formation, Tabuk basin, North West Saudi Arabia: Implications For Reservoir Dynamics In A Shale Play, International Petroleum Technology Conference (IPTC).
Abdulrahman AlQuraishi, Abdulaziz AlLaboun, Faisal AlGhamdi, Saud AlHussinan (2020). Silurian Qusaiba shale: Petrophysical, mineralogical and geochemical analysis, Journal of Petroleum Science and Engineering, Volume 192, Article 107209.