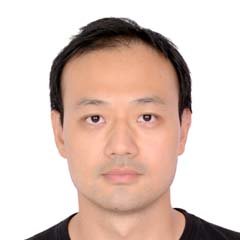 Tel:
+ 966 (013) 860-2749
Location:
Bldg. 76, Rm. 1249
Dr. Yuzhu Wang
Assistant Professor, Department of Petroleum Engineering
Dr. Wang is an Assistant professor in the Petroleum Engineering Department at KFUPM. His research interest focuses on multiscale reservoir characterization using machine learning. His academic experience covers geology, geophysics, and petroleum engineering. Besides, Dr. Wang has four years' work experience as an engineer in the SINOPEC, China.
Educational Qualification
Ph.D., Petroleum Engineering, University of New South Wales, Sydney, Australia, 2018
M.S., Geophysics, China University of Geosciences, Wuhan, China, 2010
B.S., Geology, China University of Geosciences, Wuhan, China, 2007
Research Interests
Digital Core Analysis
Multiscale Reservoir Modelling
Geostatistics
Selected Publications
Yuzhu Wang, Shuyu Sun, A rock fabric classification method based on the grey level co-occurrence matrix and the Gaussian mixture model, Jounal of Natural Gas Science and Engineering, 2022.
Yuzhu Wang, Abdulaziz Alzaben, Christoph H.Arns, Shuyu Sun. Image-based rock typing using local homogeneity filter and Chan-Vese model, Computers & Geosciences, 2021.
Yuzhu Wang, Shuyu Sun, Image-based rock typing using grain geometry features, Computers & Geosciences, 2021.
Yuzhu Wang, Shuyu Sun, Multiscale pore structure characterization based on SEM images, Fuel, 2021.
Yuzhu Wang, Christoph H Arns, Sheik S Rahman, Ji-Youn Arns. Porous Structure Reconstruction Using Convolutional Neural Networks, Mathematical geosciences, 2018.
Yuzhu Wang, Ji-Youn Arns, Sheikh S. Rahman, and Christoph H. Arns. Three-dimensional porous structure reconstruction based on structural local similarity via sparse representation on micro-computed-tomography images, Physical Review E, 2018.
Yuzhu Wang, Sheik S Rahman, Christoph H Arns. Super resolution reconstruction of -CT image of rock sample using neighbour embedding algorithm. Physica A: Statistical Mechanics and its Applications, 2018
Awards & Honors
Best paper Award 2018, Computers and Geosciences