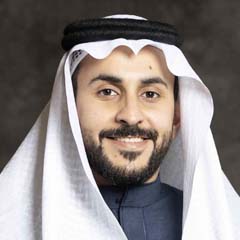 Tel:
+ 966 (013) 860-2159
Fax:
+ 966 (013) 860-4447
Location:
Bldg. 76, Rm. 2145
Dr. Talal Al Shafloot
Assistant Professor, Department of Petroleum Engineering
My mission is to insure energy security of the planet while addressing emissions issues. This can be accomplished by finding economically viable solution for producing energy from unconventional resources, as well as predicting the short and long-term impact of sequestering CO2 in geomechanical and transport aspects.
Educational Qualification
Ph.D., in Petroleum Engineering, Stanford University
M.S., in Petroleum Engineering, Texas A&M University
B.S., in Petroleum Engineering, King Fahd University of Petroleum and Minerals
Research Interests
Unconventional rocks characterization
Reservoir Geomechanics (conventional and unconventional)
CO2 sequestration and seal integrity
Waterless Fracturing
Selected Publications
Al Shafloot, T. S., Kim, T. W., & Kovscek, A. R. (2022, November). Investigating the Influence of sc-CO2 on Short-term Creep Behavior for Green River Shale Samples under Triaxial Conditions. In ARMA/DGS/SEG International Geomechanics Symposium. OnePetro.
Al Shafloot, T., Kim, T. W., & Kovscek, A. R. (2021). Investigating fracture propagation characteristics in shale using sc-CO2 and water with the aid of X-ray Computed Tomography. Journal of Natural Gas Science and Engineering, 92, 103736.
Rafieisakhaei, M., Al Shafloot, T. S., Afra, S., & Barazandeh, B. (2017, May). A System Dynamics Analysis on the Economic Potentials of CO2 Management System on Latin American Oil Producers. In SPE Latin America and Caribbean Petroleum Engineering Conference. Society of Petroleum Engineers.
Awards & Honors
Ph.D., scholarship, King Fahd University of Petroleum and Minerals
M.S., scholarship, King Fahd University of Petroleum and Minerals
B.S., scholarship, Saudi Aramco