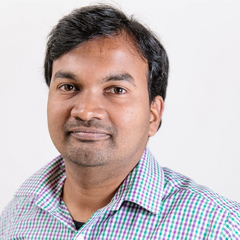 Tel:
+ 966 (013) 860-5340
Location:
Bldg. PEGTC, Rm. 111
Dr. Ravi Kumar Venkatraman
Post-Doc Researcher, CIPR
He is currently a postdoctoral researcher at CIPR, CPG, KFUPM. His research interests include ultrafast spectroscopy in liquid solutions and understanding the influence of solvents on photochemical pathways. To corroborate his experimental results, he uses computational techniques like Density Functional Theoretical calculations and Molecular Dynamics & Simulations. He received his PhD from the Indian Institute of Science, Bangalore, India (2017). His PhD thesis work was adjudged as the Best Thesis in National Laser Symposium held in Mumbai (2017). He was awarded the prestigious Newton International Fellowship in 2017 for his first postdoctoral work at the University of Bristol, United Kingdom. Before he joined CIPR he also worked at world-class Ultrafast Spectroscopy labs at the University of Texas at Austin, USA & the University of Sheffield, UK. He has peer-reviewed >75 research articles in various reputed journals like Nature Communications, Physical Chemistry Chemical Physics, RSC Advances, Journal of Physical Chemistry and more. He has also chaired a session at the RSC Spectroscopy& Dynamics Group Meeting (2022) and was a local organizing committee member of 2 international conferences.
Educational Qualification
Ph.D., Physical Chemistry, Indian Institute of Science, Bangalore, India, 2017
M.S., Chemistry, University of Madras, Chennai, India, 2009
B.S., Chemistry, University of Madras, Chennai, India, 2007
Research Interests
Ultrafast spectroscopy in liquid solutions
Solvation dynamics
Non-linear spectroscopy
Raman spectroscopy
Light-matter strong coupling
Computational chemistry
Selected Publications
Ravi Kumar Venkatraman, and A. J. Orr-Ewing★, "Solvent Effects on Ultrafast Photochemical Pathways", Acc. Chem. Res., 54

, 4383, (2021) IF: 24.466

Ravi Kumar Venkatraman and C. R. Baiz★, "Ultrafast dynamics at the lipid-water interface: DMSO modulates H-bond lifetimes", Langmuir, 36

, 6502, (2020) IF: 4.331

Kao, Ravi Kumar Venkatraman, M. N. R. Ashfold and A. J. Orr-Ewing★, "Effects of Ring Strain on the Ultrafast Photochemistry of Cyclic Ketones", Chem. Sci., 11

, 1991, (2020) IF: 9.969

Venkatraman Ravi Kumar★ and A. J. Orr-Ewing★, "Photochemistry of Benzophenone in Solution: A Tale of Two Different Solvent Environments", J. Am. Chem. Soc., 141

, 15222, (2019) IF: 16.383

Ravi Kumar Venkatraman, S. Kayal, A. Barak, A. J. Orr-Ewing★ and S. Umapathy★, "Intermolecular Hydrogen Bonding Controlled Intersystem Crossing Rates of Benzophenone", J. Phys. Chem. Lett., 9

, 1642, (2018) IF: 6.888
Extended Publications (+)
Roy, S. Kayal, Venkatraman Ravi Kumar, A. Beeby, F. Ariese and S. Umapathy★, "Understanding Ultrafast Dynamics of Conformation Specific Photo-Excitation: A Femtosecond Transient Absorption and Ultrafast Raman Loss Study", J. Phys. Chem. A, 121, 6538-6546, 2017, IF: 2.944
Venkatraman Ravi Kumar and S. Umapathy★, "Solvent Effects on the Structure of the Triplet Excited State of Xanthone: A Time-Resolved Resonance Raman Study", J. Raman Spectrosc., 47

, 1220, (2016) IF: 2.727

Kao, Ravi Kumar Venkatraman, M. Sneha, M. N. R. Ashfold and A. J. Orr-Ewing★, "Solvent Effects on the Photophysics and Photochemistry of Dimethylamino Hydroxybenzoyl Hexyl Benzoate, J. Phys. Chem. A, 125, 636-645, 2021, IF: 2.944
Venkatraman Ravi Kumar, F. Ariese and S. Umapathy★, "Triplet Excited Electronic State Switching Induced by Hydrogen bonding: A transient absorption spectroscopy and time-dependent DFT", J. Chem. Phys., 144

, 114301, (2016) IF: 4.304

Venkatraman Ravi Kumar, C. Verma★ and S. Umapathy★, "Molecular Dynamics and Simulation Study on the Electronic and Vibrational Solvatochromism of Benzophenone", J. Chem. Phys., 144

, 064302, (2016) IF: 4.304

Ravi Kumar Venkatraman, N. Rajkumar, F. Ariese and S. Umapathy★, "Direct Observation of Thermal Equilibrium of Excited Triplet States of 9,10-Phenanthrenequinone. A Time-Resolved Resonance Raman Study", J. Phys. Chem. A, 119

,

10147, (2015) IF: 2.944
Venkatraman Ravi Kumar, N. Rajkumar and S. Umapathy★, "Solvatochromism of 9,10-phenanthrenequinone: An electronic and resonance Raman spectroscopic study", J. Chem. Phys., 142, 024305, 2015 IF: 4.304
Awards & Honors
Grants for Carer
International Conference on Perspectives in Vibrational Spectroscopy 2022 (Dec 2022)
Sponsor: The Royal Society of Chemistry
Amount: £1000
Researcher Development Grants
International Conference on Perspectives in Vibrational Spectroscopy 2022 (Dec 2022)
Sponsor: The Royal Society of Chemistry
Amount: £500
SuperSolar International Conference Fund
International Conference on Perspectives in Vibrational Spectroscopy 2022 (Dec 2022)
Sponsor: The SUPERGEN and SuperSolar
Amount: £500
Recognized Reviewer Award (50 reviews)
Spectrochimica Acta A: Molecular and Biomolecular Spectroscopy, Elsevier (Apr 2021)
Newton International Fellowship Alumni Follow-on Grant
Research Title: Ultrafast Studies of Solvation Dynamics and its Influence on Model Bio-molecular/ Molecular Systems
Sponsors: The Royal Society, London, UK (Jul 2020 to Jun 2022)
Grant Amount: £5,000
Best Oral Presentation Award
7th International Conference on Perspectives in Vibrational Spectroscopy, Mumbai, India (Nov 2018)
Sponsor: Spectrochimica Acta A, Elsevier
Best Thesis Award
Thesis title: Solvent Effects on Photophysics and Photochemistry of Aromatic Carbonyls: A Raman and Computational
Study, National Laser Symposium-26, Bhabha Atomic Research Centre, India (Dec 2017)
Newton International Fellowship
Research Title: Ultrafast Studies of Biophysical Dynamics on Models of Bio-molecular Systems
Sponsors: Science and Engineering Research Board, India and The Royal Society, London, UK (Feb 2017 to Jan 2019)
Grant Amount: £99,000
Council of Scientific and Industrial Research Fellowship, Government of India (2010-2015)