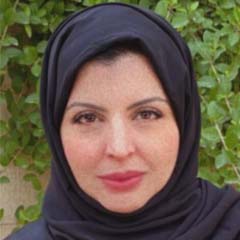 Tel:
+ 966 (013) 860-5174
Location:
Bldg. 78, Rm. 2020
Dr. Rabeah Al Zaidy
Assistant Professor, CIPR
Educational Qualification
Ph.D., Computer Science and Engineering, Pennsylvania State University, US.
M.S., Information Systems Security, Concordia University, Montréal, Canada
B.S., (1st Honors) Computer Science, King Abdulaziz University, Saudi Arabia
Professional Profile:
2021-2023, PI, Intelligent Reservoir Mapping, Aramco-CIPR, KFUPM
2021-2022, AI Research Consultant, SDAIA
2018 – 2019, Post​​doctoral Fellow, CEMSE, KAUST
2017 – 2018, Post​​doctoral Scholar, Pennsylvania State University
Research Interests
Machine Learning
Large Scale Information Retrieval
AI for Energy and Environment Applications
Deep Learning Reservoir Modeling
Natural Language Processing
Selected Publications
A. Z. Yamani, K. Katterbaeur, A. A. Alshehri and R. A. Al-Zaidy, "SAMA: Spatially-Aware Model-Agnostic Machine Learning Framework for Geophysical Data," in IEEE Access, vol. 11, pp. 7436-7449, 2023, doi: 10.1109/ACCESS.2023.3236802.
Katterbauer, Klemens, Qasim, Abdulaziz, Al Shehri, Abdallah, and Rabeah Al Zaidy. "A Deep Learning Formation Image Log Classification Framework for Fracture Identification – A Study on Carbon Dioxide Injection Performance for the New Zealand Pohokura Field." Paper presented at the SPE Annual Technical Conference and Exhibition, Houston, Texas, USA, October 2022.
Katterbauer, K., Al Qasim, A., Al Shehri, A., & Al Zaidy, R. (2022). Smart detection of fractures in formation image logs for enhanced CO2 storage. Science and Technology for Energy Transition, 77, 21
A. Z. Yamani, K. Katterbauer, A. A. AlShehri, A. F. Marsala and R. A. Al-Zaidy, "Denoising Electromagnatic Surveys Using LSTMs," 2022 7th International Conference on Data Science and Machine Learning Applications (CDMA), Riyadh, Saudi Arabia, 2022, pp. 79-84, doi: 10.1109/CDMA54072.2022.00018.
K. Katterbauer, A. Marsala, R. Alyami, R. Al-Zaidy. "An overview of natural language processing driven approaches toward assisted formation evaluation interpretation". OG4IR/ICSNC conference. (2020)
Rabah A. Al Zaidy, Marcelo G. Armentano, Antonela Tommasel, Ludovico Boratto, and C. Lee Giles. "Second International Workshop on Knowledge Discovery and User Modeling for Smart Cities (UMCit 2019)" . European Conference on Machine Learning. 2019.
Rabah Alzaidy, Cornelia Caragea, and C. Lee Giles. 2019. Bi-LSTM-CRF Sequence Labeling for Keyphrase Extraction from Scholarly Documents. In The World Wide Web Conference (WWW '19). Association for Computing Machinery, New York, NY, USA, 2551–2557.