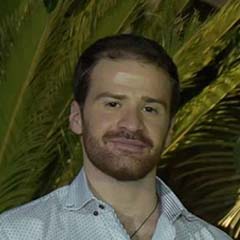 Tel:
+ 966 (013) 860-1793
Location:
Bldg. 76, Rm. 2160
Dr. Panagiotis Kirmizakis
Post-Doc Researcher, Department of Geosciences
Dr. Panagiotis Kirmizakis is currently working as postdoctoral fellow in the Department of Geosciences. Before joining KFUPM, he worked as Early Stage Researcher in the Marie Sklodowska-Curie grant agreement No. 643087 REMEDIATE. Dr. Kirmizakis obtained his B.Sc. and M.Sc. in Environmental Engineering (Hellenic Mediterranean Univerisity) focusing in Environmental Monitoring and Environmental Geophysics and his Ph.D. in Civil Engineering (Queen's University Belfast – QUB, UK) on the application of geophysics to characterize biological processes in contaminated / degraded environments. He is mainly interested in processing and interpretation of hydrogeophysical, biogeophysical and applied geophysics data.
Educational Qualification
Ph.D., Civil Engineering, School of Natural and Build Environment, Queen's University of Belfast, Belfast, UK
M.S., Geoenvironmental Resources & Risks, Department of Environmental & Natural Resources, Hellenic Mediterranean University, Crete, Greece
B.S., Environmental & Natural Resources Engineering, Department of Environmental & Natural Resources, Hellenic Mediterranean University, Crete, Greece
Research Interests
Environmental geophysics & biogeophysics
Bio-Electrochemical Systems
Environmental Engineering & Environmental Impact Assessment
Wastewater Treatment