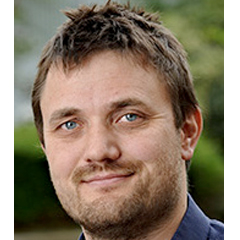 Fax:
+ 966 (013) 860-3989
Dr. Michael Pittelkow
Adjunct Associate Professor, CIPR
Michael Pittelkow was born in 1977 in Copenhagen. At the University of Copenhagen he received his PhD degree in 2007. During his studies he spent extended periods in Australia (CSIRO in Melbourne), The Netherlands (The Technical University of Eindhoven) and England (Cambridge University). He undertook postdoctoral studies in the UK (Cambridge University) before moving back to Denmark to start as an adjunkt (assistant professor) at the department of chemistry, University of Copenhagen in November 2008. In 2012 he became a permanent adjunkt and in 2013 he became associate professor (lektor) at the same department. His research interests include organic synthesis, physical organic chemistry, dendrimers and supramolecular chemistry.
Educational Qualification
PhD, Chemistry, University of Copenhagen, Denmark, 2007.
M.Sc, Chemistry, University of Copenhagen, Denmark, 2003.
Research Interests
Synthetic organic chemistry.
Supramolecular chemistry.
Dynamic combinatorial chemistry.
Molecular understanding of descale phenomena in materials and oilfield chemistry.
Selected Publications
An antiaromatic-walled nanospace, M. Yamashina, Y. Tanaka, R. Lavendomme, T. Ronson, M. Pittelkow, J. R. Nitschke, Nature, 2019, 511-515.
Symmetric, unsymmetrical and asymmetric [7]-, [10]- and [13]helicenes, S. K. Pedersen, K. Eriksen, M. Pittelkow, Angew Chem. Int. Ed., 2019, doi.org/10.1002/anie.201910214.
Heavy-atom-substituted nucleobases in photodynamic applications: substitution of sulfur for selenium in 6-thioguanine induces a remarkable increase in the rate of triplet decay in 6-selenoguanine, K. Farrell, M. Brister, M. Pittelkow, T. I. Soelling, C. Crespo-Hernandez, J. Am. Chem. Soc., 2018, 14, 11214-11218.
A gold-nanoparticle stoppered [2]rotaxane, A Ulfkjaer, F. W. Nielsen, H. Al-Kerdi, T. Russ, Z. K. Nielsen, J. Ulstrup, L. Sun, K. Moth-Poulsen, J. Zhang, M. Pittelkow, Nanoscale, 2018, 10, 9133-9140.
Thiosemicarbazone organocatalysis: tetrahydropyranylation and 2-deoxygalactosylation reactions and kinetic evidence for oxyanion hole-like mechanism, D. Larsen, L. M. Langhorn, O. M. Akselsen, B. E. Nielsen, M. Pittelkow, Chem. Sci., 2017, 8, 7978-7982.
New WOLEDs based on pi-extended azatrioxa[8]circulenes, K. B. Ivaniuk, G. V. Baryshnikov, P. Y. Stakhira, Z. Hotra, S. K. Pedersen, M. Pittelkow, B. F. Minaev, H. Aagren, J. Mater. Chem. C, 2017, 5, 4123-4128.
Synthetic Receptors for High-Affinity Recognition of O-GlcNAc Derivatives, P. Rios, T. S. Carter, T. J. Mooibroek, M. P. Crump, M. Lisbjerg, M. Pittelkow, N. T. Supekar, G.-J. Boons, A. P. Davis, Angew. Chem. Int. Ed., 2016, 55 (10), 3387-3392.
Biotin[6]uril esters: chloride selective transmembrane anion carriers employing C-H…anion interactions, M. Lisbjerg, Valkenier, B. M. Jessen, H. Al-Kerdi, A. P. Davis, M. Pittelkow. J. Am. Chem. Soc., 2015, 137(15), 4948-4951.
Discovery of a cyclic 6+6 hexamer of D-Biotin and formaldehyde, M. Lisbjerg, B. M. Jessen, B. Rasmussen, B. E. Nielsen, A. Oe. Madsen, M. Pittelkow. Chem. Sci., 2014, 5 (7), 2647-2650.