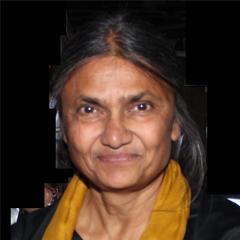 Dr. Manika Prasad
Adjunct Professor, CIPR
Dr. Manika Prasad is a Professor of Geophysics Department at the Colorado School of Mines. She directs the Colorado School of Mines Center for Rock and Fluids Multiphysics. Her research interests are multidisciplinary research on rock, sediment and fluid properties, geological carbon storage, quantitative multioscale and multiphysics characterizations of geologic formations. Through her teaching and research, she engages the next generation of industry professionals through her own clear understanding of rock physics and perceptive questioning of her students.
Educational Qualification
Ph.D. Summa Cum Laude in Geophysics. Christian-Albrechts-Universität, Kiel, Germany. Advisor: Rolf Meissner
M.S. Geology. Christian-Albrechts-Universität, Kiel, Germany. Advisors: Rolf Meissner (Geophysics thesis) and Klaus Duphorn (Geology thesis)
B.S.-Honors with distinction Geology, minor in Chemistry. St. Xavier's College, University of Bombay, India
Research Interests
Rock Physics: Poroelasticity, carbonates, multiphysics assessments, dispersion, and attenuation
Experimental designs and models
Carbon Storage: storage capacity, seal integrity, monitoring and assessment, applying Machine learning to CCS
Gas and dust pollution monitoring, assessment and map of pollution source
Selected Publications
Falcon-Suarez, I.H., Livo, K., Callow, B., Marin-Moreno, H., Prasad, M. and Best, A.I., 2020. Geophysical early warning of salt precipitation during geological carbon sequestration. Scientific reports, 10(1), pp.1-14.
Niu, Q., Zhang, C. and Prasad, M., 2020. A Framework for Pore‐Scale Simulation of Effective Electrical Conductivity and Permittivity of Porous Media in the Frequency Range From 1 mHz to 1 GHz. Journal of Geophysical Research: Solid Earth, 125(10), p.e2020JB020515.
Murugesu, M.P., Prasad, M., Pylypenko, S., 2020, Surface and bulk characterization of reservoir and cap-rocks: past, present and future: JVST A: Journal of Vacuum Science and Technology, 38, #5, 050801.
Atkinson, J., Prasad, M., Abbud-Madrid, A., & Dreyer, C. B., 2020, Penetration and relaxation behavior of JSC-1A lunar regolith simulant under cryogenic conditions. Icarus, 113812.
Livo, K., Saidian, M., & Prasad, M., 2020, Effect of paramagnetic mineral content and distribution on nuclear magnetic resonance surface relaxivity in organic-rich Niobrara and Haynesville shales. Fuel, 269, 117417.
Extended Publications (+)
Ferraro, F.; Agosta, F.; Prasad, M.; Vinciguerra, S.; Violay, M.; Giorgioni, M.; 2020, Pore space properties in carbonate fault rocks of peninsular Italy, Journal of Structural Geology, 130, 103913, https://doi.org/10.1016/j.jsg.2019.103913.
Revil, A., Ghorbani, A., Mapeli, C., Livo, K., Prasad, M., 2019, Differential pressure dependence of the complex conductivity of sandstones: Geophysical Journal International 219, #3, 2110-2124.
Kamruzzaman, A., Prasad, M., Sonnenberg,S., 2019, Petrophysical rock typing in unconventional shale plays: a Niobrara Formation case study: Interpretation, 7, #4, SJ7-SJ22.
Moyer, J., Prasad, M., 2017, Property Changes of Oil Shale During Artificial Maturation: the Irati Formation from the Paraná Basin, Brazil: Geophysics 82 (6), 1-65.
Kuila*, U., Prasad, M., 2013, Surface area and pore-size distribution in clays and shales; Geophysical Prospecting, 61, 341–362.
Prasad, M., 2003, Correlating Permeability with Velocity using Flow Zone Indicators: Geophysics, v. 68, #1, 108 – 117, DOI:10.1190/1.1543198.
Prasad, M., 2002, Acoustic measurements in sands at low effective pressure: Overpressure detection in sands: Geophysics, v. 67, #2, 405 – 412, DOI:10.1190/1.1468600.
Prasad, M., Dvorkin, J., 2001, Velocity to porosity transforms in marine sediments: Petrophysics, v. 42, #5, 429 – 437.
Awards & Honors
2019 SEG Distinguished Instructor for Short Course (DISC) on Rock Physics
2019 – 2020 1st Vice President SEG
2019 GRIT (Growth, Resilience, Innovation & Talent) award
2018 – 2019 2nd Vice President SEG
2017 Virgil Kauffman Gold Medal
2017 Honorary Membership to the Geophysical Society of Houston
2015 SEG Outstanding Educator Award
2014 – SEG Continuing Education Lecturer on Rock Physics of Shales
2012 SEG/AAPG Fall Distinguished Lecturer on Shales and Imposters
2003 Outstanding Mentor to Native American Students, Stanford University
2003 Sabbatical Fellowship, Danish Technical University, Kgs. Lyngby, Denmark.
2002 Outstanding Mentor to Native American Students, Stanford University
1999 Top 25 Paper from 587 papers at 1999 SEG annual convention
1983 Friedrich-Ebert-Stiftung Scholarship for Ph.D. research
1978 University of Bombay, Merit Scholarship Award
1978 Distinction in B.Sc. (Hons.), ranked first in Bombay University