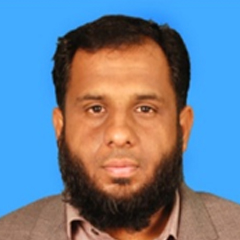 Tel:
+ 966 (013) 860-8692
Location:
Bldg. 76, Rm. 2213
Dr. Madhar Sahib Azad
Assistant Professor, Department of Petroleum Engineering
Dr. Madhar Sahib Azad joined CPG as a visiting assistant professor in Jan 2021. Prior to that, he worked as a post-doctoral research fellow in the petroleum engineering department at the University of Alberta for a period of around 2 years. During his Ph.D., he introduced a new capillary number and an injectivity model for polymer flooding applications. Between July 2009 to June 2011, he also worked in India for a UAE based drilling company. He has been serving as a technical editor for petroleum engineering journals such as SPE journal, journal of petroleum science and engineering, energy and fuel, ACS omega, etc.
Educational Qualification
Ph.D. in Petroleum Engineering from the University of Alberta, Edmonton, AB, Canada, Jan 2019.
M.S. in Petroleum Engineering from the King Fahd University of Petroleum and Minerals, Dhahran, Saudi Arabia, Dec 2014.
B. Tech in Petroleum Engineering from the RGCE, Chennai, Tamil Nadu India, May 2009 (First class with distinction)
Research Interests
Fundamental and applied aspects of EOR
Applied rheology for reservoir engineering applications
Unconventional oil recovery
Reservoir simulation
Pressure transient testing
Selected Publications
Azad, M.S and Trivedi, J.J. 2020. "Quantification of Sor reduction during viscoelastic polymer flooding using extensional capillary number" SPE Journal, 1-30, SPE 204212-PA.
Azad,M.S and Trivedi,J.J.2020."Extensional effects during viscoelastic polymer flooding: Understanding the unresolved challenges" SPE Journal, 25(04): 1827-1841, SPE 201112-PA.
Azad,M.S and Trivedi,J.J.2020."Does polymer's viscoelasticity influence the heavy oil sweep efficiency and injectivity at 1ft/day?" SPE Reservoir Evaluation and Engineering Journal, 23 (02): 446-462, SPE 193771-PA.
Azad,M.S and Trivedi,J.J.2019."Quantification of viscoelastic effects during polymer flooding: A critical review" SPE Journal, 24 (06): 2731-2757, SPE 195687-P
Azad, M.S and Trivedi, J.J.2019."A novel viscoelastic model for predicting the synthetic polymer's viscoelastic behavior in porous media using direct extensional rheological measurements" Fuel, 235: 218-226