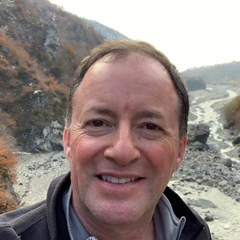 Location:
Bldg. 76, Rm. 2251
Dr. John D. Humphrey
Chairman / Associate Professor, Department of Geosciences
Dr. John D. Humphrey is Associate Professor and Acting Chairman of the Department of Geosciences at King Fahd University of Petroleum and Minerals. His appointment is in the College of Petroleum Engineering and Geosciences (CPG). He has a B.S. in Geology from the University of Vermont, and his M.Sc. and Ph.D. degrees from Brown University in Geological Sciences. He served on the faculty of Geosciences at the University of Texas at Dallas from 1986 to 1991. Beginning in 1991, Dr. Humphrey was an Associate Professor of Geology and Geological Engineering at Colorado School of Mines. He served as Department Head from 2006 to 2013. He joined CPG-KFUPM in early 2017. He teaches courses in physical geology, field geology, carbonate sedimentology, and carbonate diagenesis. His areas of specialization include carbonate diagenesis and geochemistry, carbonate sedimentology and stratigraphy, carbonate reservoir characterization, unconventional carbonate reservoirs, stable isotope geochemistry, and paleoclimatology. His current research focuses on all aspects of carbonate mudrocks in unconventional petroleum systems, including Mesozoic source rocks of Saudi Arabia.
Educational Qualification
Ph.D., Geology, Brown University, Providence, Rhode Island, 1987.
M.Sc., Geology, Brown University, Providence, Rhode Island, 1987.
B.S. (cum laude), Geology, University of Vermont, Burlington, Vermont, USA, 1982.
Research Interests
Characterization of carbonate diagenesis, dolomitization, water-rock interaction, and carbonate geochemistry.
Unconventional resource petroleum systems.
Applications of carbonate diagenesis to petroleum reservoir characterization.
Sedimentology and stratigraphy of carbonate sediments and rocks.
Applications of stable isotopes to diagenetic, environmental, hydrologic, and paleoclimatic problems.
Synergism between Quaternary sea-level history and carbonate diagenesis.
Paleoclimatology.
Selected Publications
Radwan, O.A., Dogan, A.U., Morsy, M.A., Kaminski, M.A., Humphrey, J.D., and Christiansen, E.H., 2021 (in press), One-step versus two-step dolomite calcitization (dedolomitization): Differences and inferences; Geosciences Journal, v. 25, p.
Hussain, M., Amao, A., Al-Ramadan, K., Babalola, L., and Humphrey, J., 2020, Utilization of geochemical signatures for unconventional reservoir characterization, Saudi Arabia; ADIPEC, SPE-203212-MS, p. 1-11 (conference paper).
Chan, S.A., Hassan, A.M., Humphrey, J.D., Mahmoud, M.A., Abdulraheem, A., 2020, Evaluation of brittleness index based on mineral composition prediction using artificial neural network; ARMA/DGS/SEG International Geomechanics Symposium 20-64, p. 1-6 (conference paper).
Al Ibrahim, M., Sarg, J.F., Hurley, N.F., Cantrell, D., and Humphrey, J.D., 2017, Depositional environments and sequence stratigraphy of carbonate mudrocks using conventional geologic observations, multi-scale electrofacies visualization and geochemical analysis: The case of the Tuwaiq Mountain and Hanifa Formations in a basinal setting, Saudi Arabia; American Association of Petroleum Geologists Bulletin, v. 101, p. 683-704: 10.1306/08051615221.
Winkelstern, I.Z., Kaczmarek, S.E., Lohmann K.C, and Humphrey, J.D., 2016, Calibration of dolomite clumped isotope thermometry; Chemical Geology: Isotope Geoscience Section.
Hendrickson, M., Hitzman, M., Wood, D., Humphrey, J., and Wendlandt, R., 2015, Geology of the Fishtie deposit, Central Province, Zambia: iron oxide and copper mineralization in Nguba Group sedimentary rocks; Mineralium Deposita, v. 50, p. 717-737, doi: 1007/s00126-014-0570-z
Price, J.B., Hitzman, M.W., Nelson, E.P., Humphrey, J.D., Johnson, C.A., 2014, Wall-rock alteration, structural control, and stable isotope systematics of the high-grade copper orebodies of the Kennecott district, Alaska; Economic Geology, v. 109, p. 581-620, doi:10.2113/econgeo.109.3.581.
Sarg, J.F., Tanavasuu, K., Suriamin, N., and Humphrey, J.D., 2013, Lithofacies, stable isotopic composition, and stratigraphic evolution of microbial and associated carbonates, Green River Formation, Piceance Creek Basin, Colorado; American Association of Petroleum Geologists Bulletin, v. 97, p. 1937-1966.
Awards & Honors
CSM Alumni Teaching Award, 2014
CSM Alumni Teaching Award, 1998
Fellow, Geological Society of America, 1997
National Science Foundation Graduate Fellowship, 1982-1986
Sigma Xi, Brown University, 1984 (full member, 1986)
Graduate Teaching Assistantship, Brown University, Spring 1984
Phi Beta Kappa, University of Vermont, 1982
Charles G. Doll Award for Excellence in Geology, University of Vermont, 1982