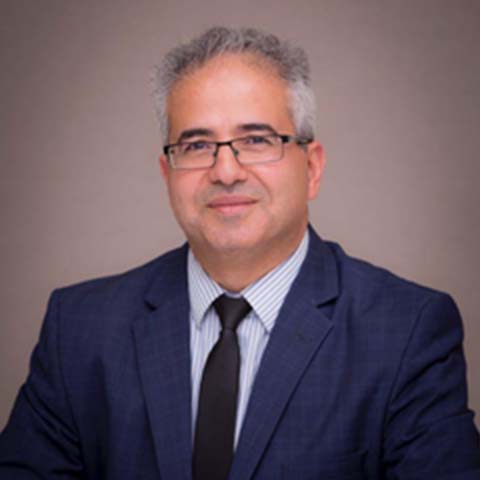 Tel:
+966 (013) 860-​2195
Location:
Bldg. 76, Rm. 2219
Dr. Husam Baalousha
Associate Professor, Geosciences Department
Dr. Husam Baalousha is an Associate Professor at the Department of Geosciences, College of Petroleum and Geosciences (CPG), at King Fahd University of Petroleum and Minerals (KFUPM). He earned his BSc Degree in Civil Engineering from Birzeit University, Palestine, his MSc Degree in Hydrological Engineering from Delft, the Netherlands, and his Ph.D. in Civil Engineering from Aachen University of Technology (RWTH) in Germany. He also earned a HDR degree (Habilitation degree) in hydrogeology from the University of Strasbourg,
His work experience spans more than 25 years, where he fulfilled a wide variety of roles in academia, industry, and governmental institutions. His experiences include hydrogeology, geoscience, modelling, integrated water resources management, and environmental protection. He made more than 70 scholarly contributions including journal papers, books, conference proceedings, and book chapters. Dr. Baalousha has completed projects in Germany, New Zealand, and in the Middle East. He is an Associate Editor of Hydrogeology Journal and Chief Editor of the International Journal of Hydraulic Engineering. He is a member of the International Association of Hydrogeologists (IAH), Modelling and Simulation Society of Australia and New Zealand (MODSIM), and the New Zealand Hydrological Society (NZHS).
Educational Qualification
HDR., Hydrogeology, Laboratory of Hydrology and Geochemistry, University of Strasbourg, France, 2020.
Ph.D., Institute of Hydraulic Engineering and Water Resources Management, Faculty of Civil Engineering, Aachen University of Technology (RWTH), Germany, 2003
MSc., Hydrological Engineering, UNESCO IHE-Delft, The Netherlands, 1998.
BSC., Civil Engineering, Birzeit University, Palestine, 1996.
Research Interests
Hydrogeology.
Environmental management.
Vulnerability, and risk assessment.
Flow in porous media.
Numerical modelling.
Uncertainty analysis, and stochastic hydrogeology.
Extended Publications (+)