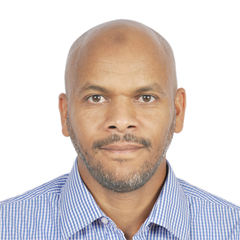 Location:
Bldg. 76, Rm. 2217
Dr. Hassan Eltom
Assistant Professor, Department of Geosciences
Dr. Eltom is an Assistant Professor at the Department of Geosciences. His research focuses on carbonate sedimentology, chemostratigraphy, sequence stratigraphy, and diagenesis, the processes that control the quality of hydrocarbon reservoirs. His major area of interest is to understand pore system in carbonate reservoirs, particularly carbonate with complex large pores (cavern, vuggy, breccia, and burrow porosity). Dr. Eltom interdisciplinary research integrates geological, geophysical, petrophysical, geostatistical, and reservoir simulation data to quantitatively address questions regarding controls on flow properties of carbonate with large pores. Dr. Eltom has several publications in refereed journals and conferences. He worked with Schlumberger overseas as a geologist for four years (2006 – 2010), with KFUPM as lecturer and researcher for four years (2010 – 2014), and with Kansas Interdisciplinary Carbonates Consortium (KICC) – the University of Kansas as Post-doc for five years (2014 – 2019).
Educational Qualification
Doctor of Philosophy (Ph.D.), Geology, 2013 – King Fahd University of Petroleum & Minerals, Dhahran, Saudi Arabia
Master of Science (M.S.), Geology, 2007 – King Fahd University of Petroleum and Minerals, Dhahran, Saudi Arabia
Bachelor of Science (B.S.), Geology and Chemistry, 2001 – University of Khartoum, Khartoum, Sudan
Research Interests
Understanding flow properties in carbonates with complex pore systems.
Selected Publications
Eltom, H.A., Limitation of laboratory measurements in evaluating rock properties of bioturbated strata: A case study of the Upper Jubaila Member in Central Saudi Arabia, 20 December, 2019, https://doi.org/10.1016/j.sedgeo.2019.105573
Eltom, H.A., Rankey, E.C., Hasiotis, S.T., and Barati, R., 2019. Effect of bioturbation on petrophysical properties: Insights from geostatistical and flow simulation modeling. Marine and Petroleum Geology. https://doi.org/10.1016/j.marpetgeo.2019.03.019
Eltom H.A., and Hasiotis S.T., 2019. Lateral and vertical trends of preferred flow pathways associated with bioturbated carbonate: examples from Middle to Upper Jurassic strata, central Saudi Arabia. In McNeill D, Harris PM, Rankey E, Hsieh J (Editors). Carbonate Pore Systems: New Developments and Case Studies, Special Publication 112: SEPM (Society for Sedimentary Geology), Tulsa, Oklahoma. DOI: 10.2110/sepmsp.112.05
Eltom, H.A., Gonzalez, L.A., Hasiotis, S.T., Rankey, E.C., and Cantrell, D.L., 2018, Paleogeographic and paleo-oceanographic influences on carbon isotope signatures: Implications for global and regional correlation, Middle-Upper Jurassic of Saudi Arabia: Sedimentary Geology, v. 364, p. 89-102.
Eltom, H.A., Rankey, E.C., Hasiotis, S.T., Gonzalez, L.A., and Cantrell, D.L., 2017, Impact of upwelling on heterozoan, biosiliceous, and organic-rich deposits: Jurassic (Oxfordian) Hanifa Formation, Saudi Arabia: Journal of Sedimentary Research, v. 87, p. 1235-1258.
Eltom, H.A., Abdullatif, O.M., and Babalola, L.O., 2017, The elemental geochemistry of Lower Triassic shallow-marine carbonates from central Saudi Arabia: Implications for redox conditions in the immediate aftermath of the latest Permian mass extinction: Journal of African Earth Sciences. v. 139, p. 283-306.
Eltom, H.A., Abdullatif, O.M., and Babalola, L.O., 2017, Redox conditions through the Permian-Triassic transition in the upper Khuff Formation, Saudi Arabia: Palaeogeography, Palaeoclimatology, Palaeoecology, v. 472, p. 203-215.
Eltom, H.A., Abdullatif, O.M., Babalola, L.O., Bashari, M.A., Yassin, M., Osman, M.S., and Abdulraziq, A.M., 2017, Integration of facies architecture, ooid granulometry and morphology for prediction of reservoir quality, Lower Triassic Khuff Formation, Saudi Arabia: Petroleum Geoscience, v. 23, p. 177-189.
Eltom, H.A., Abdullatif, O.M., Makkawi, M.H., and Eltoum, I.-E.A., 2017, Rare earth element geochemistry of shallow carbonate outcropping strata in Saudi Arabia: Application for depositional environments prediction: Sedimentary Geology, v. 348, p. 51-68.
Eltom, H.A., Kubur, A.K., Abdulraziq, A.M., Babalola, L.O., Makkawi, M.H., and Abdullatif, O.M., 2017, Three-dimensional outcrop reservoir analog model: A case study of the Upper Khuff Formation oolitic carbonates, central Saudi Arabia: Journal of Petroleum Science and Engineering, v. 150, p. 115-127.
Eltom, H.A., Abdullatif, O.M., Babalola, L., Bashari, M., Yassin, M., Osman, M., and Abdulraziq, A., 2016, Geochemical characterization of the Permian–Triassic transition at outcrop, central Saudi Arabia: Journal of Petroleum Geology, v. 39, p. 95-113.
Eltom, H.A., Abdullatif, O.M.., Makkawi, M., Al-Ramadan, K., and Abdulraziq, A., 2015, Porosity evolution within high-resolution sequence stratigraphy and diagenesis framework: outcrop analog of the upper Jurassic Arab-D reservoir, Central Saudi Arabia: Arabian Journal of Geosciences, v. 8, p. 1669-1690.
Eltom, H.A., Abdullatif, O.M., Makkawi, M., and Abdulraziq, A., 2014, Characterizing and modeling the Upper Jurassic Arab-D reservoir using outcrop data from Central Saudi Arabia: GeoArabia, v. 19, p. 53-84.
Eltom, H.A., Abdullatif, O.M., Makkawi, M., and Abdulraziq, A., 2013, Microporosity in The Upper Jurassic Arab‐D carbonate reservoir, central Saudi Arabia: An outcrop analogue study: Journal of Petroleum Geology, v. 36, p. 281-297.
Eltom, H.A., Abdullatif, O.M., Makkawi, M., and Yasin, M., 2013, Integration of spectral gamma-ray and geochemical analyses for the characterization of the upper Jurassic Arab-D carbonate reservoir: outcrop analogue approach, central Saudi Arabia: Petroleum Geoscience, v. 19, p. 399-415.
Eltom, H.A., Makkawi, M., Abdullatif, O.M., and Alramadan, K., 2013, High-resolution facies and porosity models of the upper Jurassic Arab-D carbonate reservoir using an outcrop analogue, central Saudi Arabia: Arabian Journal of Geosciences, v. 6, p. 4323-4335
Awards & Honors
Best graduate student (2013). Earth Science Department KFUPM