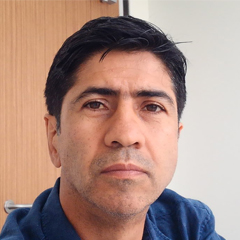 Tel:
+ 966 (013) 860-5623
Location:
Bldg. 78, Rm. 2013
Dr. Fernando Alonso Marroquin
Research Scientist I, CIPR
I enjoy working in numerical simulations, but I try not to let my mind be replaced by the CPU of the computer. This is why I prefer analytical calculations
Educational Qualification
Ph.D., in Computational Physics, University of Stuttgart, Germany – 2004
M.S., (equivalent) in Mathematical Engineering (Modelling and Simulation), Universidad Carlos II de Madrid, Spain, 2000
B.S., in Physics (Quantum Mechanics), National University of Colombia, Colombia 1997
Research Interests
Granular Materials
Discrete-Continuum modelling of Geomaterials
Fractional, Nonlinear Stochastic Processes
Synergesis in Complex Systems
Selected Publications
Yupeng Jiang, Peter Mora, Hans J Herrmann, and Fernando Alonso-Marroquín. Damage separation model: A replaceable particle method based on strain energy field. Physical Review E, volume 104, page 045311. APS, 2021
2021 Fernando Alonso-Marroquin and Peter Mora. Beverloo law for hopper flow derived from self-similar profiles. Granular Matter, volume 23, pages 1–8. Springer, 2021
Yupeng Jiang, Fernando Alonso-Marroquín, Hans J Herrmann, and Peter Mora. Particle fragmentation based on strain energy field. Granular Matter, volume 22, pages 1–10. Springer, 2020
Federico Maggi and Fernando Alonso-Marroquin. Multiphase capillary flows. International Journal of Multiphase Flow, volume 42, pages 62–73. Elsevier, 2012
Fernando Alonso-Marroquín. Static equations of the cosserat continuum derived from intra-granular stresses. Granular matter, volume 13, pages 189–196. Springer, 2011
F Alonso-Marroquin. Spheropolygons: A new method to simulate conservative and dissipativeinteractions between 2d complex-shaped rigid bodies. EPL (Europhysics Letters), volume 83, page 14001. IOP Publishing, 2008
F Alonso-Marroquin, I Vardoulakis, Hans Jürgen Herrmann, D Weatherley, and P Mora. Effect of rolling on dissipation in fault gouges. Physical Review E, volume 74, page 031306. APS, 2006.
F Alonso-Marroquin, S Luding, HJ Herrmann, and I Vardoulakis. Role of anisotropy in the elastoplastic response of a polygonal packing. Physical Review E, volume 71, page 051304. APS, 2005.
Awards & Honors
Fundacion Horizontes Prize, National University of Colombia, 1999
Ioannis Vardoulakis Prize, ALERT Geomaterials, 2006
European Union Postdoctoral Fellowship, 2004-2005, European Research Council,
Australian Postdoctoral Fellowship, 2007-2011,Australian Research Council