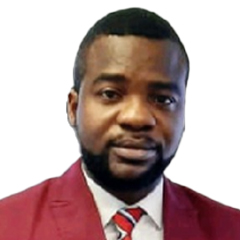 Tel:
+ 966 (013) 860-1793
Location:
Bldg. 76, Rm. 2160
Dr. Chekwube Clement Afagwu
Post-Doc Fellow, Department of Petroleum Engineering
Dr. Afagwu is a Postdoctoral Research Fellow at the Department of Petroleum Engineering. He joined KFUPM in 2019 as a Ph.D. student. Prior to this time, he worked with Chevron Nigeria Limited as a Reservoir simulation Engineer between January to December 2016, and a subsurface consulting film between 2017 and 2018. His research interests span across reservoir and production engineering with emphasis in Multiscale and Multiphysics Transport and Storage Studies in Unconventional Hydrocarbon Reservoirs.
Educational Qualification
Ph.D., Petroleum Engineering, KFUPM, Saudi Arabia, 2023
M.S., Petroleum Engineering, UNIBEN, Nigeria, 2016
B.S., Petroleum Engineering, UNIBEN, Nigeria, 2012
Research Interests
Modeling Fluid Flow in Porous Media
Unconventional Hydrocarbon Resources
Adsorption and Diffusion
Molecular Simulation
Data Analysis and Artificial Intelligence
Selected Publications
C Afagwu, S Alafnan, R Weijermars, M Mahmoud (2023). Multiscale and Multiphysics production forecasts of shale gas reservoirs: New simulation scheme based on Gaussian pressure transients. Fuel 336, 127142
C Afagwu, S Alafnan, M Mahmoud, W. Akkutlu (2022). Modeling of natural gas self-diffusion in the micro-pores of organic-rich shales coupling sorption and geomechanical effects. JNGSE, 104757
R Weijermars, C Afagwu (2022). Hydraulic diffusivity estimations for US shale gas reservoirs with Gaussian method: Implications for pore-scale diffusion processes in underground repositories. Journal of Natural Gas Science and Engineering, 104682
C Afagwu, M Mahmoud, S Alafnan, A Alqubalee, A ElHusseiny, S Patil (2022). Pore Volume Characteristics of Clay-Rich Shale: Critical Insight into the Role of Clay Types, Aluminum and Silicon Concentration. Arabian Journal for Science and Engineering, 1-17.
C Afagwu, S Al-Afnan, S Patil, J Aljaberi, MA Mahmoud, J Li (2021). The impact of pore structure and adsorption behavior on kerogen tortuosity. Fuel 303, 121261.
C Afagwu, S Alafnan, MA Mahmoud, S Patil (2021). Permeability model for shale and ultra-tight gas formations: Critical insights into the impact of dynamic adsorption. Energy Reports 7, 3302-3316.
J Aljaberi, S Alafnan, G Glatz, AS Sultan, C Afagwu (2021). The impact of kerogen tortuosity on shale permeability. SPE Journal 26 (02), 765-779.
C Afagwu, I Abubakar, S Kalam, SF Al-Afnan, AA Awotunde (2020). Pressure-transient analysis in shale gas reservoirs: A review. Journal of Natural Gas Science and Engineering 78, 103319.
C Afagwu, MA Mahmoud, S Alafnan, S Patil (2022). Multiscale storage and transport modeling in unconventional shale gas: A review. Journal of Petroleum Science and Engineering 208, 109518
Awards & Honors
2022 SPE International Presidential Award Winner (recognizes Top 5% Student Chapter)
2022 SPE MENA Region Petrobowl First Runner Up
2021 SPE MENA Region Petrobowl First Place
2020 SPE International Petrobowl Elite Stage