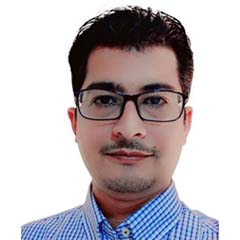 Location:
Bldg. 76, Rm. 2160
Dr. Arshad Raza
Post-Doc Researcher, Department of Petroleum Engineering
Dr. Arshad is a Post-Doctoral Research Fellow in the Petroleum Engineering Department at KFUPM, Saudi Arabia. Before joining KFUPM, he has worked as Lecturer (2010-2012), Assistant Professor (2012-2021), and Associate Professor (2021) at the Petroleum Engineering Department of University of Engineering and Technology (UET), Lahore, Pakistan for almost 11 years teaching various petroleum discipline related undergraduate and postgraduate courses. Dr. Arshad received his B.Sc. and M.Sc. degrees from Petroleum Engineering Department at UET, Lahore, Pakistan. He obtained his doctoral degree in Petroleum Engineering from Curtin University, Australia, in 2017 on the improved scheme of reservoir characterization for CO2 Sequestration.
He has been involved in many academic research studies in the USA, China, South Africa, Malaysia, and Australia, in the past 4 years. He has published 40+ articles in peer-reviewed journals and providing voluntarily reviewer services for many leading scientific ISI journals. Furthermore, he is mainly focusing on Carbon Geo-Sequestration (CGS), Energy Storage, and Engineered Geothermal Systems (EGS).
ResearchGate: https://www.researchgate.net/profile/Arshad_Raza2
Google Scholar: ‪Arshad Raza – ‪Google Scholar
Educational Qualification
Ph.D., in Petroleum Engineering, Curtin University, Australia, 2017
M.S., in Petroleum Engineering, UET. Pakistan, 2012
B.S., in Petroleum Engineering, UET. Pakistan, 2009
Research Interests
Green Improved oil recovery
Deep Learning Neutral Networks
Storage feasibility of geological mediums
Multiphase reactive flow in porous media
Selected Publications
Arshad Raza, Guenther Glatz, Raoof Gholami, Mohamed Mahmoud, Saad Alafnan, Carbon mineralization and geological storage of CO2 in basalt: Mechanisms and technical challenges, Earth-Science Reviews, 2022, 104036. Q1
Raoof Gholami., Raza, Arshad, Stefan Iglauer. 2021. Leakage Risk Assessment of a CO2 Storage Site: A Review. Earth-Science Reviews, v223, 103849. Q1
Raoof Gholami., Raza, Arshad, Aadnøy, B., Rabiei, M., & Rasouli, V. 2021. Time-Dependent compaction of deep-water reservoirs: a study on the viscous behavior of unconsolidated sandstone. Journal of Natural Gas Science and Engineering, 103952. Q1
Raoof Gholami., Raza, Arshad, Pål Andersen, Alejandro Escalona, Nestor Cardozo, Dora Marín, Mohammad Sarmadivaleh, 2021, Long-Term Integrity of Shaly Seals in CO2 Geo-Sequestration Sites: An Experimental Study, International Journal of Greenhouse Gas Control, Elsevier. 109, 103370. Q2
Eric Saffou, Raza, Arshad, Raoof Gholami, Leon Croukamp, Walter Romaric Elingou, Jan van Bever Donker, Mimonitu Opuwari, Musa S.D. Manzi, Raymond J. Durrheim, 2020. Geomechanical Characterization of CO2 Storage Sites: A Case Study from a nearly Depleted Gas Field in the Bredasdorp Basin, South Africa," Journal of Natural Gas Science and Engineering, Elsevier. Q1
Shi, W., Wang, X., Guo, M., Shi, Y., Feng, A., Liang, R., & Raza, Arshad. 2020. Water use for shale as development in China's Fuling shale gas field. Journal of Cleaner Production, 120680. Q1.
Extended Publications (+)
Raza, Arshad, Raoof Gholami, Mohammad Sarmadivaleh. 2019. "Feasibility of limestone reservoirs as a CO2 storage site: an experimental study." AAPG Bulletin, V. 104, No. 1, P. 83-96, DOI: 10.1306/04241918124. Q2
Raza, Arshad

, Raoof Gholami, Reza Rezaee, Vamegh Rasouli, Amanat Ali Bhatti, and Chua Han Bing. 2018. "Suitability of depleted gas reservoirs for geological CO

2

storage: A simulation study."

Greenhouse Gases: Science and Technology, Wiley

8, no. 5 (2018): 876-897, DOI:

https://doi.org/10.1002/ghg.1802.

Q4

Raza, Arshad, Reza Rezaee, Raoof Gholami, Vamegh Rasouli, Chua Han Bing, Ramasamy Nagarajan, and Mohamed Ali Hamid. "Injectivity and quantification of capillary trapping for CO2 storage: A review of influencing parameters."Journal of Natural Gas Science and Engineering, Elsevier26 (2015): 510-517, DOI: https://doi.org/10.1016/j.jngse.2015.06.046, Published Online: July 4 2015.
Raza, Arshad, Reza Rezaee, Raoof Gholami, Chua Han Bing, Ramasamy Nagarajan, and Mohamed Ali Hamid. "A screening criterion for selection of suitable CO2 storage sites." Journal of Natural Gas Science and Engineering, Elsevier28 (2016): 317-327, DOI: https://doi.org/10.1016/j.jngse.2015.11.053, Published Online: December 9 2015.
Raza, Arshad, Raoof Gholami, Mohammad Sarmadivaleh, Nathan Tarom, Reza Rezaee, Chua Han Bing, Ramasamy Nagarajan, Mohamed Ali Hamid, and Henry Elochukwu. "Integrity analysis of CO2 storage sites concerning geochemical-geomechanical interactions in saline aquifers." Journal of Natural Gas Science and Engineering, Elsevier36 Part A (2016): 224-240, DOI: https://doi.org/10.1016/j.jngse.2016.10.016, Published Online: October 13 2016.
Raza, Arshad, Raoof Gholami, Reza Rezaee, Chua Han Bing, Ramasamy Nagarajan, and Mohamed Ali Hamid. "Preliminary assessments of CO2 storage in carbonate formations: a case study from Malaysia." Journal of Geophysics and Engineering, IOP, Oxford University Press (OUP) 14, no. 3 (2017): 533, DOI: https://doi.org/10.1088/1742-2140/aa5e71, Published Online: March 28, 2017.
Raza, Arshad, Raoof Gholami, Reza Rezaee, Chua Han Bing, Ramasamy Nagarajan, and Mohamed Ali Hamid. "Assessment of CO2 residual trapping in depleted reservoirs used for geosequestration." Journal of Natural Gas Science and Engineering, Elsevier43 (2017): 137-155, DOI: https://doi.org/10.1016/j.jngse.2017.04.001, Published Online: April 7 2017.
Raza, Arshad, Raoof Gholami, Reza Rezaee, Vamegh Rasouli, Amanat Ali Bhatti, and Chua Han Bing. "Suitability of depleted gas reservoirs for geological CO2 storage: A simulation study." Greenhouse Gases: Science and Technology, Wiley8, no. 5 (2018): 876-897, DOI: https://doi.org/10.1002/ghg.1802, Published Online: 02 July 2018.
Raza, Arshad

, Guo Meiyu, Raoof Gholami, Reza Rezaee, Vamegh Rasouli, Mohammad Sarmadivaleh, and Amanat Ali Bhatti. "Shale gas: A solution for energy crisis and lower CO

2

emission in Pakistan."

Energy Sources, Part A: Recovery, Utilization, and Environmental Effects,

Taylor & Francis, 40, no. 13 (2018): 1647-1656., DOI:

1080/15567036.2018.1486486

, Published Online: 20 Jun 2018.

Raza, Arshad, Raoof Gholami, Guo Meiyu, Vamegh Rasouli, Amanat Ali Bhatti, and Reza Rezaee. "A review on the natural gas potential of Pakistan for the transition to a low-carbon future." Energy Sources, Part A: Recovery, Utilization, and Environmental Effects, Taylor & Francis,41, no. 9 (2019): 1149-1159., DOI: 1080/15567036.2018.1544993, Published Online: 8 Nov 2018.
Raza, Arshad, Raoof Gholami, Richard Wheaton, Minou Rabiei, Vamegh Rasouli, and Reza Rezaee. 2019. "Primary recovery factor as a function of production rate: Implications for conventional reservoirs with different drive mechanisms." Energy Sources, Part A: Recovery, Utilization, and Environmental Effects, Taylor & Francis, 41:22, 2778-2785, DOI: 10.1080/15567036.2019.1576073, Published Online: 5 Feb 2019.
Raza, Arshad, Raoof Gholami, Minou Rabiei, Vamegh Rasouli, and Reza Rezaee. 2019. "Injection rate estimation to numerically assess CO2 sequestration in depleted gas reservoirs." Energy Sources, Part A: Recovery, Utilization, and Environmental Effects, Taylor & Francis, :1-10. DOI: 10.1080/15567036.2019.1604871, Published Online: 13 April 2019.
Raza, Arshad, Raoof Gholami, Minou Rabiei, Vamegh Rasouli, Reza Rezaee, and Nikoo Fakhari. 2019, "Impact of geochemical and geomechanical changes on CO2 sequestration potential in sandstone and limestone aquifers." Greenhouse Gases: Science and Technology, Wiley 0 (0). DOI: 10.1002/ghg.1907. Published Online: 16 July 2019.
Gholami, Raoof, Mehdi Safari, Raza, Arshad, William Samuel Downey, Mohammad Sadegh Momeni, and Tarek Arbi Omar Ganat. 2019 "A field scale approach to determine compaction-based permeability in unconsolidated reservoirs." Journal of Natural Gas Science and Engineering, Elsevier 68:102909. DOI: https://doi.org/10.1016/j.jngse.2019.102909, Published Online: 7 June 2019
Liew, Chean Xing, Raoof Gholami, Mehdi Safari, Raza, Arshad, Minou Rabiei, Nikoo Fakhari, Vamegh Rasouli, and Jose Varghese Vettaparambil. 2019. "A new mud design to reduce formation damage in sandstone reservoirs." Journal of Petroleum Science and Engineering, Elsevier no. 181:106221. DOI: https://doi.org/10.1016/j.petrol.2019.106221, Published Online: 29 June 2019
Bhatti, Amanat Ali, Raza, Arshad, Syed Mohammad Mahmood, and Raoof Gholami. "Assessing the application of miscible CO2 flooding in oil reservoirs: a case study from Pakistan." Journal of Petroleum Exploration and Production Technology, Springer, 9, no. 1 (2019): 685–701., DOI: 10.1007/s13202-018-0504-x (ESCI).
Umar, Bappah Adamu, Raoof Gholami, Raza, Arshad, William Samuel Downey, Mohammad Sarmadivaleh, Afroz A. Shah, and Prasanta Nayak. 2019. "A Study on the Surface Wettability of Clastic Rocks with Potential Application for CO2 Storage Sites." Natural Resources Research. DOI: 10.1007/s11053-019-09553-x. Published Online: 04 September 2019.
Atif Ismail, Raza, Arshad, Raoof Gholami, Reza Rezaee, (2020). Reservoir characterization for sweet spot detection using color transformation overlay scheme." Journal of Petroleum Exploration and Production Technology, Springer, (ESCI), 10, 2313–2334 (2020). https://doi.org/10.1007/s13202-020-00913-5
Awards & Honors
Best poster presentation award in 3rd Faculty of Engineering Postgraduate Research Colloquium, UNIMAS, Kuching, Malaysia, 2015.
Presented Top Paper nominated by AAPG for 13th International Petroleum Technology Conference (IPTC) 23-25 March 2021 | Kuala Lumpur, Malaysia
CSRI fully funded PhD Scholarship 2014-2018