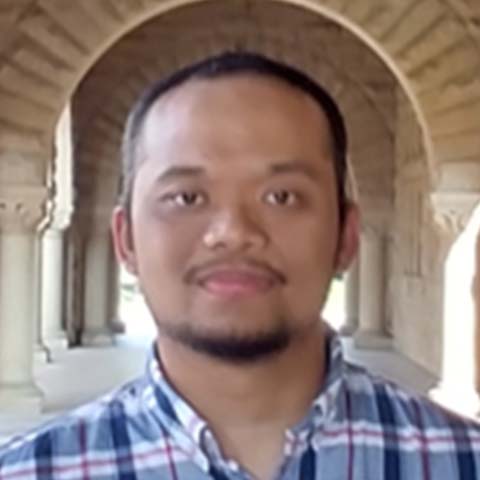 Tel:
+ 966 (013) 860-2848
Location:
Bldg. 76, Rm. 2239
Dr. Ardiansyah Ibnu Koeshidayatullah
Assistant Professor, Department of Geosciences
Ardiansyah Koeshidayatullah is an Assistant Professor in the Geosciences Department, College of Petroleum Engineering and Geosciences (CPG), KFUPM. His primary research interests focus on (i) integrated carbonate reservoir characterization, including stratigraphic modelling and novel geochemistry; and (ii) Artificial Intelligence in Geosciences. He was a Presidential Doctoral Scholar at the University of Manchester, UK and a visiting research student at the Rosenstiel School of Marine and Atmospheric Sciences, University of Miami, USA. Before joining KFUPM, he was a joint postdoctoral research fellow at the Paleobiology and Basin Petroleum System Modeling (BPSM) Group, Stanford University, USA.
Educational Qualification
Ph.D., Basin and Petroleum Geosciences, University of Manchester, UK (2019)
M.S., Earth Sciences, King Fahd University of Petroleum and Minerals, Saudi Arabia (2015)
B.S., Institut Teknologi Bandung, Indonesia (2011)
Research Interests
Integrated outcrop and stratigraphic forward modeling
Isotope geochemistry and quantitative geochemical modelling
Structurally-controlled diagenesis and dolomitization
Machine learning for visual recognition in geosciences
From Machine learning to Explainable AI in geosciences
Selected Publications
Koeshidayatullah, A., Trower, E., Mukerji, T., Li, X., Lehrmann, D.J., Morsilli, M., Al-Ramadan, K. and Payne, J.L., 2021. Can secular trends in ooid size be used to constrain ancient climate and ocean chemistry? Insights from Deep Learning, Monte Carlo Simulation and Physics-based modelling. Submitted to Earth and Planetary Science Letters.
Koeshidayatullah, A., Corlett, H. and Hollis, C., 2021. An overview of structurally-controlled dolostone-limestone transitions in the stratigraphic record. Earth-Science Reviews, p.103751.
Stacey, J., Corlett, H., Holland, G., Koeshidayatullah, A., Cao, C., Swart, P., Crowley, S. and Hollis, C., 2020. Regional fault-controlled shallow dolomitization of the Middle Cambrian Cathedral Formation by hydrothermal fluids fluxed through a basal clastic aquifer. GSA Bulletin.
Koeshidayatullah, A., Morsilli, M., Lehrmann, D.J., Al-Ramadan, K. and Payne, J.L., 2020. Fully automated carbonate petrography using deep convolutional neural networks. Marine and Petroleum Geology, 122, p.104687.
Stacey, J., Hollis, C., Corlett, H. and Koeshidayatullah, A., Burial dolomitization driven by modified seawater and basal aquifer‐sourced brines: Insights from the Middle and Upper Devonian of the Western Canadian Sedimentary Basin. Basin Research, 33(1), pp.648-680.
Extended Publications (+)
Koeshidayatullah, A., Corlett, H., Stacey, J., Swart, P.K., Boyce, A. and Hollis, C., 2020. Origin and evolution of fault-controlled hydrothermal dolomitization fronts: A new insight. Earth and Planetary Science Letters, 541, p.116291.B
Koeshidayatullah, A., Corlett, H., Stacey, J., Swart, P.K., Boyce, A., Robertson, H., Whitaker, F. and Hollis, C., 2020. Evaluating new fault‐controlled hydrothermal dolomitization models: Insights from the Cambrian Dolomite, Western Canadian Sedimentary Basin. Sedimentology, 67(6), pp.2945-2973.
Al-Ramadan, K., Koeshidayatullah, A., Cantrell, D. and Swart, P.K., 2020. Impact of basin architecture on diagenesis and dolomitization in a fault-bounded carbonate platform: outcrop analogue of a pre-salt carbonate reservoir, Red Sea rift, NW Saudi Arabia. Petroleum Geoscience, 26(3), pp.448-461.
Koeshidayatullah, A.

, Al-Ramadan, K., Collier, R. and Hughes, G.W., 2016. Variations in architecture and cyclicity in fault-bounded carbonate platforms: Early Miocene Red Sea Rift, NW Saudi Arabia.

Marine and Petroleum Geology, 70, pp.77-92
Awards & Honors
Presidential Doctoral Scholar (2016-2019)
1ST place in Middle East and 3rd place in global competition, AAPG Imperial Barrel Awards (2015)
Best Graduate Student, KFUPM (2014)
Dean's List award (2008-2011)