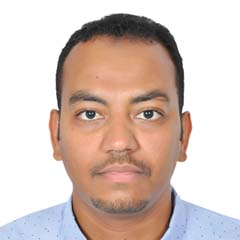 Location:
Bldg. 76, Rm. 2160
Dr. Ahmed Abdulhamid Ahmed Mahmoud
Post-Doc Researcher, Department of Petroleum Engineering
Dr. Mahmoud is a Post-Doctoral Fellow in the Department of Petroleum Engineering at KFUPM. He worked as a Researcher in Petroleum Engineering department from 2016-2020 during which he received his Ph.D. He joined the Drilling Fluid and Oil-Well Cementing Research Team at Department of Petroleum Engineering since 2016. He served on the faculty of Engineering at the University of Khartoum from 2012 to 2015. Dr. Mahmoud worked as a part-time instructor in Estidama Training Centre, Sudan, from 2011 to 2013. And a part-time instructor for Petroleum Training Centre (PTC), Sudan, in 2015, during that time he worked in a research team carrying out preparation, training of trainers, and in-depth qualitative evaluation of the 10 days advanced oil production optimization course. Dr. Mahmoud has numerous publications in refereed journals and conferences. He is currently a peer-reviewer for several Q1 journals.
Google Scholar: https://scholar.google.com/citations?user=q6kdJV0AAAAJ&hl=en
ResearchGate: https://www.researchgate.net/profile/Ahmed-Abdulhamid-Mahmoud
Educational Qualification
Ph.D., Petroleum Engineering, KFUPM, Kingdom of Saudi Arabia, 2020
M.S., Petroleum Engineering, KFUPM, Kingdom of Saudi Arabia, 2015
B.S., Petroleum Engineering, University of Khartoum, Sudan, 2011
Research Interests
Oil-Well Cementing
Application of Artificial Intelligence in Petroleum engineering
Wellbore Clean-up
Extended Publications (+)
Awards & Honors
Second Place, Middle East and North Africa & South Asia and the Pacific SPE Regional Students Paper Contest, PhD Division, Online, 2021.
Best Student's Project, Endogenous 2020, Dhahran, Saudi Arabia, 2020.
First Place, College of Petroleum and Geosciences Club Hackathon, Al-Khober, Saudi Arabia, November 2019.
First Place, Middle East and North Africa SPE Regional Students Paper Contest, PhD Division, Manama, Bahrain, 2019.
Third Place, SPWLA International Paper Contest, PhD Division, Texas, USA, 2019.
First Place, SPWLA Regional Paper Contest, PhD Division, Al-Khober, Saudi Arabia, 2019.
Schlumberger prize for the outstanding academic performance in the fifth year at petroleum engineering department, University of Khartoum, Sudan, 2011