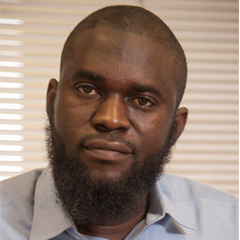 Location:
Bldg. 78, Rm. 2033
Dr. Abdulrauf Adebayo
Research Engineer II, CIPR
Dr. Adebayo joined CIPR on March 10, 2015. His experience is essentially focused on geological CO2 sequestration, CO2-EOR, petrophysics, and multiphase flow in porous media. From 2016 till today he has been an assistant research professor at CIPR.
Educational Qualification
Ph.D., Petroleum Engineering, KFUPM, KSA, 2015.
M.S., Petroleum Engineering, University of Port Harcourt, Nigeria, 2007.
B.S., Petroleum Engineering, Abubakar Tafawa Balewa University, 2004
Research Interests
Multiphase flow in porous media, Petrophysics, EOR, CO2 Sequestration, and Geomechanics.
Selected Publications
Adebayo Abdulrauf Rasheed, Al-Yousef Hasan Y., and Mahmoud Mohammed (2015). An Experimental Investigation of the Use of Combined Resistivity and Temperature Logs for Scale Monitoring In Carbonate Formations during CO2 Sequestration J. Energy Resour. Technol. 137, 032202 (11 pages); Paper No: JERT-14-1183; doi:10.1115/1.4028772.
Abdulrauf Rasheed Adebayo, Hasan Y. Al-Yousef, Mohamed A. Mahmoud (2015), An investigation of the effect of CO2–brine–rock interaction on determination of Archie's saturation exponent for carbon dioxide evaluation in carbonate reservoirs, Journal of Petroleum Science and Engineering, Volume 133, Pages 665-676, ISSN 0920-4105.