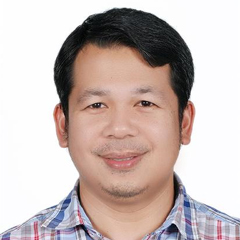 Tel:
+ 966 (013) 860-1303
Fax:
+ 966 (013) 860-8663
Location:
Bldg. 76, Rm. 1114
Bryan Estabillo Galzote
Procurement Officer, Finance & Administration Department
Bryan's previous work experiences in Saudi Arabia starts as Accounts Staff at Dammam Palace Hotel from 2003-2008. Then in the same year, he moved to SRACO Co. as Procurement Officer for a period of 7 years.
He joined CPG as Procurement Officer on August 1, 2018. Generally, my responsibilities include overseeing purchasing and supply management for the organization. Managing acceptance of an orderly delivery of goods and completion of services. His duties also include ensuring smooth process flow of Purchase Requests and other related documentations.
Educational Qualification
B.S. in Agriculture – Manila, Philippines