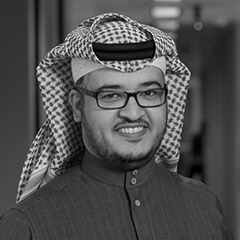 Location:
Bldg. 76, Rm. 1133
Ayman Al-Lehyani
Lecturer, Geosciences Department
Currently employed as a Lecturer at CPG and been in post for over 7 years. In 2002 Ayman received his BS in geophysics from the Geosciences Department then on completion of his Degree, he returned to the Department as a lecturer in 2010. His career path then took him to Schlumberger where he worked for 7 years, during which time he also secured his Master of Science Degree in Geophysics from KFUPM.
Educational Qualification
M.S., Geophysics, KFUPM, KSA, 2008
B.S., Geophysics, KFUPM, KSA, 2002
Research Interests
Near-Surface Geophysics
Seismic Data Processing
Selected Publications
Al-Lehyani, Ayman Fazea, and Abdullatif Abdulrahman Al-Shuhail. "Mapping and attenuation of surface waves side scattered by near-surface diffractors". Arabian Journal of Geosciences 2 (2014): 757-771.
Mousa, Wail A., Abdullatif A. Al-Shuhail, and Ayman Al-Lehyani. "A new technique for first-arrival picking of refracted seismic data based on digital image segmentation". Geophysics 5 (2011): V79-V89.