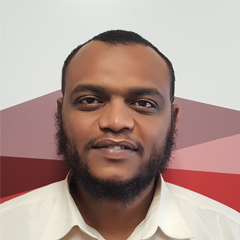 Location:
Bldg. 76, Rm. 1247
Assad Ahmed Abdallah Barri
Technical Research Assistant, Laboratory Technical Support & Services
On Jun. 2015 Assad was hired by the Petroleum Engineering Dept. as a Technical Researcher and Lecturer assisting the professors with the routine teaching and research assignments.
Formerly, he spent eight years for White Nile Petroleum Operating Co. – one of Sudan's biggest oil companies, with a role responsible for scheduling service and testing required for oil wells.
Selected Publications
Assad Barri & Sami Alnuaim. "A Graphical Method to Evaluate Multi-Reservoir Commingling". SPE 172194-MS paper presented in Al Khobar Symposium, KSA, April 2014. URL: https://www.onepetro.org/conference-paper/SPE-172194-MS.
Assad Barri & M. A. Mahmoud. "Effect of Stimulation with Chelating Agents on Carbonate Rocks Integrity". SPE 172709-MS paper presented in MEOS in Al-Manama, Bahrain, March 2015. DOI: http://dx.doi.org/10.2118/172709-MS.
Patent applied for the U.S. Patent and Trademark Office (USPTO), serial number 14/17446 titled: GRAPHICA METHOD FOR ASSISTING MULTI-ZONES COMMINGLING.
Assad Barri & M.A. Mahmoud. "Evaluation of Rock Mechanical Properties Alteration during Matrix Stimulation with Chelating Agents". Paper published in the Journal of Energy Resources Technology (JERT), volume 138, May 2016. DOI: 10.1115/1.4032546.