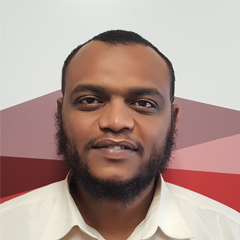 Location:
Bldg. 76, Rm. 1247
Assad Ahmed Abdallah Barri
Lecturer, Department of Petroleum Engineering
On September 2021 Assad was hired by the Petroleum Engineering Dept. as a Lecturer assisting the professors with the routine teaching and research assignments.
Formerly, he spent eight years for White Nile Petroleum Operating Co. – one of Sudan's biggest oil companies, with a role responsible for scheduling service and testing required for oil wells. After that he joint petroleum department at KFUPM as technical research assistant on September 2012 to conduct his mater degree. Then he joined the petroleum department as technical researcher on June 2015. He was part of many research teams.
Educational Qualification
M.S., Petroleum Engineering, KFUPM, Kingdom of Saudi Arabia, 2015
B.S., Petroleum Engineering, University of Khartoum, Sudan, 2003
Research Interests
Matrix stimulation
Enhanced Oil Recovery (EOR)
Selected Publications
Barri, A.A., Hassan, A.M., Aljawad, MS, M Mahmoud, 2021. Effect of Treatment Conditions on Matrix Stimulation of Carbonate Rocks with Chelating Agents. Arab J Sci Eng.
Tinku Saikia, Abdullah Sultan, Assad A. Barri, Nur Iman Khamidy, Abdulmalek A. Shamsan, Ayman Almohsin, Mohammed Bataweel, 2020. Development of pickering emulsified polymeric gel system for conformance control in high temperature reservoirs, Journal of Petroleum Science and Engineering, Volume 184.
Badr S. Bageri, Abdulrauf Rasheed Adebayo, Assad Barri, Jaber Al Jaberi, Shirish Patil, Syed Rizwanullah Hussaini, Rahul S. Babu, 2019. Evaluation of secondary formation damage caused by the interaction of chelated barite with formation rocks during filter cake removal, Journal of Petroleum Science and Engineering, V. 183.
Elhaj, Murtada A., Barri, Assad , Hashan, Mahamudul , and M. Enamul Hossain, 2018. "State of the Art on Porosity and Permeability Hysteresis: Useful Techniques for Hydrocarbon Recovery." Paper presented at the SPE Kingdom of Saudi Arabia Annual Technical Symposium and Exhibition.
Abdulrauf Rasheed Adebayo, Assad A. Barri, Muhammad Shahzad Kamal, 2017. "Effect of Flow Direction on Relative Permeability Curves in Water/Gas Reservoir System: Implications in Geological CO2 Sequestration", Geofluids, vol. 2017.
Extended Publications (+)
Assad Barri, M.A. Mahmoud, & S Elkatatny, 2016. "Evaluation of Rock Mechanical Properties Alteration during Matrix Stimulation with Chelating Agents". Journal of Energy Resources Technology (JERT), volume 138.
Assad Barri & M. A. Mahmoud, 2015. "Effect of Stimulation with Chelating Agents on Carbonate Rocks Integrity". SPE 172709-MS paper @ MEOS in Al-Manama, Bahrain, March 2015.
Assad Barri & Sami Alnuaim, 2014. "A Graphical Method to Evaluate Multi-Reservoir Commingling". SPE 172194-MS paper presented in Al Khobar Symposium, KSA.