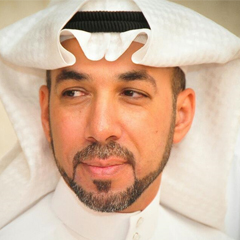 Location:
Bldg. 78, Rm. 1070
Abdulmalek Ali Alsanounah
Operational Health & Safety Supervisor, Laboratory Technical Support & Services
Educational Qualification
B.Sc. in Geology, 1991, KFUPM.
Selected Publications
Saner S, Cagatay M.N, and Al-Sanounah A.A, "Relationship Between Shale Content and Grain-Size Parameters in the Safaniyah Sandstone reservoir, NE Saudi Arabia", Journal of Petroleum Geology, vol. 19(3), 1996, pp. 305-320.
Sahin A, Ali A.Z, Ghori S.G, Elsahn H, Hassan M, and Al-Sanounah A.A, "Geological Controls of Variograms in a Complex Carbonate Reservoir, Eastern Province, Saudi Arabia", Mathematical Geology, vol. 30,No. 3, 1998, pp. 309-322.
Awards & Honors
Received Prince Mohammed ben Fahd ben Abdulaziz Award for the year 1997.