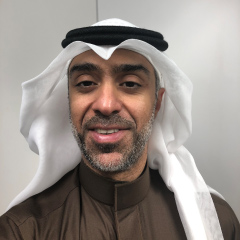 Location:
Bldg. 76, Rm. 2215
Dr. Abdullah A. Alshuhail
Assistant Professor, Geosciences Department
Educational Qualification
Ph.D., Geophysics, University of Calgary, USA, 2011. Dissertation title: CO2 Sequestration Site Characterization and Time-lapse Monitoring Using Reflection Seismic Methods
M.S., Geophysics, University of Calgary, USA, 2006. Dissertation title: Integration of 3-D Electrical Resistivity Imaging and Ground Penetrating Radar Surveys in Characterizing Near-Surface Fluvial Environment
B.S., Geophysics, KFUPM, KSA, 2001.
Visiting Scholar at the Geophysics Department, Stanford University, USA, 2012-2013.
Research Interests
Geophysical applications in CO2 sequestration. In particular, the applications of seismic methods in CO2 site characterization and time-lapse monitoring
Geophysical reservoir characterization
Qualitative and quantitative interpretation of seismic data
Near-surface Geophysics. In particular, applications of seismic, ground-penetrating radar (GPR) and electrical resistivity imaging (ERI) techniques in environmental and engineering/geotechnical studies
Selected Publications
Alshuhail, A.; Lawton, D. and Isaac, H., 2010, Geophysical characterization of the Devonian Nisku Formation for the Wabamun Area CO2 Sequestration Project (WASP), Alberta: Energy Procedia.
Lawton, D; Alshuhail, A.; Coueslan, M. and Chabot, L., 2008, Seismic monitoring at the Penn West Pembina Cardium CO2-EOR pilot, Alberta, Canada – lessons learned: Energy Procedia.
SanLinn I. Kaka, Juan M. Reyes-Montes, Abdullah Al-Shuhail, Abdullatif A. Al-Shuhail and Michael Jervis, 2016, Analysis of Microseismic Events during a Multi-stage Hydraulic Stimulation Experiment at a Shale Gas Reservoir: Seismological Research Letters.