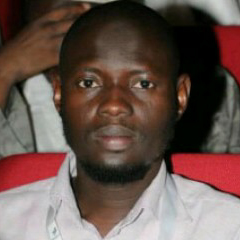 Location:
Bldg. 26, Rm. 248
Tajudeen Adeyinka Oyehan
Technical Research Assistant, Laboratory Technical Support & Services
Tajudeen joined Geosciences department in April 2015 shortly after completing his Master Degree in Environmental Sciences Program in the same department. He had his bachelor degree from Obafemi Awolowo University, Ile-Ife, Nigeria. His research interests span across different aspects of environmental (air, soil, and water) pollution assessment and remediation with a specific focus on microbial degradation of hydrocarbons, and pollution treatment using nanoscience, adsorption, and advanced oxidation as well as the application of machine learning in the research areas. Currently, he works in Environmental and Hydrology Lab where he operates and different state-of-the-art analytical instruments to support graduate students' and faculty research activities.
Educational Qualification
M.Sc., Environmental Sciences Program, Geosciences Dept., KFUPM, KSA, 2015.
B.S., Agriculture (Plant Science) Obafemi Awolowo University, Nigeria.
Research Interests
Analytical chemistry and environmental pollution assessment
Application of nanotechnology, advanced oxidation and microbiology in pollution remediation
Machine learning
Selected Publications
Oyehan, Tajudeen A., and Assad A. Al-Thukair (2017). "Isolation and Characterization of PAH-Degrading Bacteria from the Eastern Province, Saudi Arabia" Marine Pollution Bulletin,1–2: 39–46. doi:10.1016/j.marpolbul.2016.11.007
Olabemiwo F., Tawabini B., Patel F., Oyehan T., M. Khaled, and Tahar L. (2017) "Cadmium Removal from Contaminated Water using Polyelectrolyte-Coated Industrial Waste Fly Ash" Bioinorganic Chemistry & Applications. pg 1-13. doi:10.1155/2017/7298351.
Alade I.O., Oyehan T.A. Popoola K.I., Sunday O.O., Bagudu A. (2017) "Modeling Thermal Conductivity Enhancement of Metal and Metallic Oxide Nanofluids using Support Vector Regression". Advanced Power Technology. doi:10.1016/j.apt.2017.10.023
Tajudeen A. Oyehan

and Dr. Baqer M. Ramadan (2014). "Management of oil spill in Nigeria using GIS" In ESRI Middle East and Africa Users conference, holding at The Regency Hotel, Kuwait City, Kuwait, October 20 – 22, 2014.

Tajudeen A. Oyehan

(2013). Assessment and Characterization of Indoor Particulates using SEM-EDS (A poster presentation in Saudi Students Scientific Conference, 4

th

edition, SSC4 held in Makkah, Saudi Arabia, April 29 – May 2

nd

, 2013)

Jason K., Alyssa S., Jas G., Miha S., Andrea S.R., Marcela A. and Tajudeen A.O (2010). Amaranth for Africa. A winning business report in 2010 GEEBIZ Competition (see geebiz.org)
NCBI GenBank submissions

As part of MS thesis research outcomes, 15 unique strains of hydrocarbon-degrading bacteria were submitted to GenBank with accession numbers KP662547–51, KP683357, KP79227986–94. (See http://www.ncbi.nlm.nih.gov/nuccore/KP683357)
Awards & Honors
Earth Sciences Best Graduate Student for 2012/2013 session
Second Best, Research Poster Presentation in Basic Sciences and Engineering Section, Student Scientific Conference 4th Edition (2013), held in Makkah Saudi Arabia
2010 Global Leadership Award and Member of Winning Team of Global Enterprise Experience Champion Business Proposal, Victoria University of Wellington. (See geebiz.org).