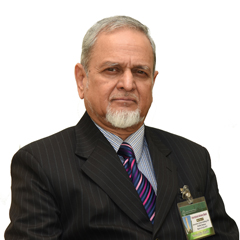 Location:
Bldg. 76, Rm. 2205
Mohammed Nooruddin
PMO Specialist, Dean's Office
Mohammed Nooruddin joined CPG on 18 February 2018 and works at the Dean's Office. Earlier he worked as Secretary to the Rector of KFUPM for 32 years (September 1985-November 2017) and has served for all the three Rectors. He has also rendered services as an Executive Assistant to the International Advisory Board (IAB) of KFUPM from 2007-2017. Before moving to the Rector's office, worked as Secretary to the Director of Research Institute-KFUPM (September 1976-August 1985).
Educational Qualification
Bachelor of Commerce (B.Com.) degree (1971) from Osmania University, Hyderabad, India.
Awards & Honors
In recognition of his distinguished services to the University, H.E. the Rector has honored him with a "Certificate of Distinction".