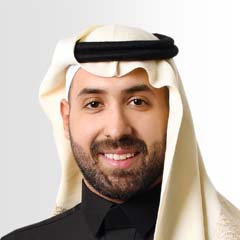 Location:
Bldg. 78, Rm. 1069/3077
Mobarak O. Baateahah
Laboratory Specialist, Laboratory Technical Support & Services
Mr. Mobarak has joined the Department of Laboratory Technical Support and Services in 2020, Mobarak has worked for AI-Haytham Mining Company in Al Hajar Camp,Bisha,Ksa as Filed Assistant And as Summer Training at Saudi Arabian Mining (ma'aden).
Educational Qualification
B.S.of Science in General Geology-department Mineral Resources and Rocks in Faculty of Earth Sciences from King Abdul Aziz University Jeddah, Saudi Arabia, May 2019.
Research Interests
Geology and Mineralization of the Gossan 14 and Waqbah Prospects, southwestern Saudi Arabia
AMIC Wadi Kamal Fe-TI Oxide Project-Yanbu