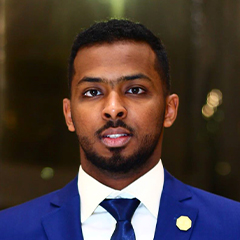 Tel:
+ 966 (013) 860-8524
Location:
Bldg. 78, Rm. 1051
Mahmoud Elsayed
Laboratory Specialist, Laboratory Technical Support & Services
Mr. Mahmoud Elsayed is currently working as a Laboratory Specialist in Laboratories Technical Support & Services Department at College of Petroleum Engineering & Geoscience. He has done an extensive training in The University of Western Australia (UWA) in advanced NMR rock core analysis techniques – specifically diffusion and propagator measurments. He is actively participating in research and providing training to graduate student and Aramco's NMR laboratory Personnel on NMR expriements. He also participated in writing several proposal projects with Aramco.
Educational Qualification
M.S. in Petroleum Engineering (2017-2019) King Fahd University of Petroleum & Minerals, Dhahran, Saudi Arabia
B.S. in Petroleum Engineering (2013-2017) King Fahd University of Petroleum & Minerals, Dhahran, Saudi Arabia
Research Interests
Nuclear Magnetic Resonance (NMR) Applications in Oil & Gas Industry
Petrophysics
Well Logging
Awards & Honors
Recipient of King Fahd University Petroleum & Minerals, MSc & BSc Scholarships.
Second-Class Honors BSc from King Fahd University Petroleum & Minerals
First Prize in Endogenous program organized by SPE Young Professionals and the Student Outreach teams