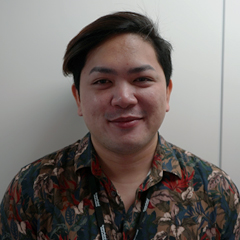 Location:
Bldg. 76, Rm. 2250
Jeffrey Macapagal
Secretary, Geosciences Department
Jeff was a working student during his college years 'til he finished his degree in 2010 with distinction. At a young age and with a total of 7 years working experience in various professional industries such as the BPO (Teleperformance) , Academe (Adamson University) & Oil & Gas (Aramco Drilling & Pipelines), he is now back in the Kingdom as the Department Secretary of the Geosciences Department of CPG- KFUPM.
Educational Qualification
B.S. in Biology (2010), Adamson University, Marcelino St. Ermita, Manila, Philippines.
Awards & Honors
Certified Pollution Control Officer, Environmental Training Institute, Philippines
Basic Occupational Safety & Health (BOSH) Training, OSH Center, Philippines
ISO 3100: Risk Management Course, SGS Academy, Philippines
Secretarial & Admin Professional Workshop, Sue France Training International, KSA
E-8000 (SAP), Crystal Reports & Travel Assistant Trainings, Dhahran, KSA
MOOCS – Massive Open Online Courses Verifiable Certificates (Cousera.com)

Critical Perspective of Management, IE Business School, Madrid
Unethical Decision Making in Organizations, University of Lausanne, Switzerland
Introduction to Neuroeconomics, Higher School of Economics, Russia
What Managers can Learn from Philosophers, Ecolé Centrale, Paris
Introduction to Population Health, University of Manchester, England