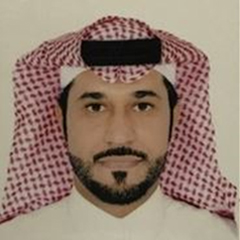 Location:
Bldg. 76, Rm. 2104
Mr. Fawaz A. Al-Anazi
Dean's Office
Mr. Fawaz is Manager of the Department of Finance & Administration with 18+ years of experience in Managing Compliance & Audits, Quality Control, Financial Analysis and Risk Assessment processes across diverse roles & hierarchies; CFO, Controller, and an Audit Manager. Well-versed and proficient in quality assurance, managing business plans, minimizing financial risks to the corporation through review & compliance functions related to contracting & procurement activities, external auditor consultation review, and employee development.
Managing operations such as leadership, daily operations, Financial Statements, developing strategic plans, monitoring corporate activities management, human resources, financial planning, budgeting, tracking expenses, creating and implementing policies, and implementing visionary business strategies to driving employees to achieve peak performance levels.
Mr. Fawaz is directing strategic enhancements to outperform corporate objectives while communicating openly and productively with staff and management teams. Enjoying increased knowledge of the corporate's business and operations – including strategy, training, direction and competitive pressures.
Educational Qualification
Certified Internal Auditor (CIA), 2019
Certified Enterprise Risk Specialist (CERS), 2018
Certified Risk Management Assurance (CRMA), 2014
Executive MBA from KFUPM, 2015
B.S. Management in Informative System from King Fahd University, 2001
Major Work Business Accomplishments:
Standardized and structured financial reporting based on Generally Accepted Accounting Principles (GAAP). Financial information about the college were made available.
Implemented business process control & Established internal review and monitoring reports.
Streamlined all CPG financial payment process.
Streamlined Procurement process and enhance the procedure.
Streamlined Fixed Assed process with KFUPM & Established Fixed Asset Procedure.
Streamlined the Year-end closure reconciliation process with all parties.
Developed the College's procedures that have govern the business process of the college and implementing the controls over the business processes. Such as: (Honorarium procedure, Tip, Award (internal partnership), Enhanced Travel procedure, Cash Advanced, Enhanced Petty Cash procedure, Exit clearance, Research Start up, etc.
Developed College Code of Conduct, Individual Confidentially Undertaking, and Statement of Awareness of management Guide and Risk.
Developed Research Start up compensation agreement Program.
Worked out a criteria for students incentives program.
Managed the College financial Performance.
Led the College of Petroleum Engineering and Geosciences (CPG) business process enhancement.
Led the College system automation development project (ERP) system.
Led the College HR consultation project.
Effectively led and contributed to the timely completion of 18 high-risk audits.
Developed and conducted quality assessment of Internal Auditing (IA) process.
Developed a document addressing criteria and developmental needs for model auditor professional and determined the criteria that are needed to be a model auditor profession.
Involved in the development of internal auditing business process dashboard in alignment with organizational goals/ standards.
Define the business control process.
Played a key role in setting up audit procedures, defined quality assurance review process, and enhanced resources utilization process.
Held several positions such as Quality Control and Audit Manager for Support Audit Division.
Awards & Honors
Recipient of Risk Management Assurance (Certificate) & Recognition (Certificate).