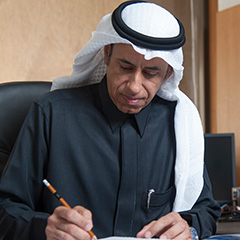 Location:
Bldg. 76, Rm. 2123
Dr. Waleed Abdulghani
Assistant Professor, Geosciences Department
Educational Qualification
Ph.D., in Petroleum Geology, University of Manchester, 2011
M.Sc., in Petroleum Geology, KFUPM
B.Sc., in Petroleum Geology, King Abdulaziz University
Research Interests
Petroleum Geology
Petrophysics
Carbonate Petrography
Carbonate Reservoir Characterization
Selected Publications
Ibrahim Yousif, Osman Abdullatif Mohammed Makkawi, Mazin Bashri, Waleed Abdulghani, 2017, " Lithofacies, Paleoenvironments and high-resolution stratigraphy of the D5-D6 Members of Middle Jurassic carbonates Dhruma Formation, outcrop analog, central Saudi Arabia", Journal: Submitted to Journal of African Earth Sciences.
Ibrahim Yousif, I., O. Abdullatif, M. Makkawi, and W. Waleed Abdulghani, 2017, Lithofacies, Paleoenvironments and Diagenesis of the Middle Jurassic Carbonate Dhruma Formation: Implications on Reservoir Quality, Outcrop Analog Approach, Central Saudi Arabia, AAPG/SEG International Conference & Exhibition in London, England, 15-18 October 2017 (Accepted).
Ibrahim Yousif, Abdullatif O., Makkawi M., AbdulGhani W. 2017. Sedimentology and High Resolution Sequence Stratigraphy of the Middle Jurassic Dhruma Formation Carbonates Outcrops in the Central Saudi Arabia, EGU2017-4124, accepted in the European Geoscience Union General Assembly Conference (EGU), April 23, 2017.
Awards & Honors
1997 – Prince Mohammed bin Fahd bin Abdulaziz Award for Scientific Excellence, Eastern Province, Saudi Arabia
1992 – Scholarship – King Fahd University of Petroleum & Minerals
1991 – First Scientific Award of the Organization of Arab Petroleum Exporting Countries
1990 – Prince Mohammed bin Fahd bin Abdulaziz Award for Scientific Excellence, Eastern Province, Saudi Arabia
1988 – Financial Support, The Research Institute, KFUPM (Award No.: CGS/GEOL/710/87 dated 03 Dec 1998) for the research work leading to the Master Thesis
1987 – Scholarship, M.Sc. Degree in Geology granted by KFUPM
1985 – Best Student Award for Student Activities from Faculty of Earth Sciences, King Abdulaziz University, Jeddah, Saudi Arabia
1984 – Best Student Award for Student Activities from Faculty of Earth Sciences, King Abdulaziz University, Jeddah, Saudi Arabia